Are you looking for a boot for all seasons? Take a look at the Scarpa Manta Tech! The Manta has been around in different forms for years and is still a favourite amongst mountaineers including Scarpa Athlete Richard Bentley.
Here are Richard's thoughts on the Manta Tech GTX.
---
A boot for all seasons… (well almost).
The Scarpa Manta has long been the go to boot for UK hill walking and mountaineering for as long as I have been working in the outdoors. (And that's quite a long time !)
Here's a wee excerpt from an article I wrote a couple of years ago about this iconic mountain boot.
"I remember my first pair of Mantas, back in the late 80's! Big heavy brown leather boots that I would lovingly soak with dubbin every few weeks. Everyone working in the outdoors had a pair; they were indestructible.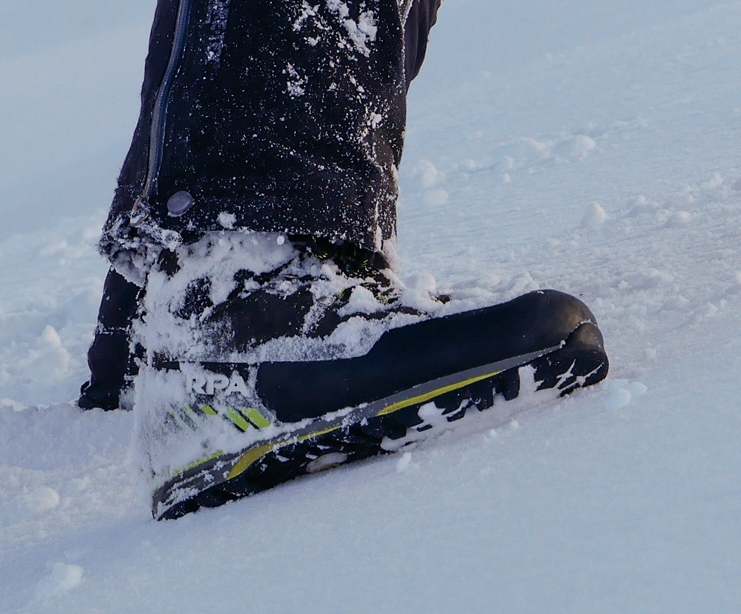 Over the years the Manta has evolved, through blue and red leather M4's, GSB's, to the high tech all round mountain boot it is now. It's lighter, more waterproof, and more comfortable than ever. But it's still the Manta."
Scarpa's latest evolution is the excellent Manta Tech GTX.
The Manta has perhaps always been a jack of all trades, truly a boot for all seasons. Of course, for some this means that there is a compromise.
In the middle of Summer the boot may be a bit too warm and stiff. For harder Winter days above grade II, it's not quite rigid enough. But there is an awful lot of use between these two extremes.
It has been my "go to" boot for work, for Summer and Winter Mountain Leader training and assessment courses, and general mountaineering both Summer and Winter.
Where it really does shine is on multi day expeditions at cold times of the year. It's almost inconceivable that you can do a three day Summer ML assessment in a wet and cold Scotland and not need to worry about taking spare dry socks. But that's exactly what I have enjoyed the last 12 months.Yes, that right! These boots are amazingly warm and waterproof thanks to the latest Gore-Tex Insulated comfort lining and 3mm suede Perwanger shell.
The inherent stiffness in the boot will help preserve the waterproofness in the liner, and you can also use a good leather waterproofer on the outside. After over a year's hard use, mine are still 100% waterproof.
It is also a fairly roomy boot, with good adjustment and lacing compensation. This allows you to experiment with insoles and socks. The toe box has just the right amount of wriggle room. This means nice warm feet for Winter mountaineering days.
On Grade I/II ground, they excel with a solid platform and enough stiffness to work beautifully with my Grivel G12's or Air Techs. The ankle flex and slightly more give than a fully B3 boot, makes for less stressed feet and ankles on lengthy winter ridges and long "French technique" hard snow slopes.
I'm often asked for advice on boots, and if the intent is to get out into the big hills throughout the year, then the answer is easy. The Manta Tech GTX.
Yes, it may be a bit too much for those occasional warm summer days, and for those days, I can thoroughly recommend either the R-EVO GTX or the Marmolada Pro. For everything else, these will leave you with a smile on your face, dry warm feet, and a sureness in your step.
---
If you want to keep up with the latest from Scarpa and our athletes? Follow us on Facebook and Instagram.