Back in March John McCune and fellow Scarpa team member Will Sim set out on a new route on the Aiguille des Pélerins. In our latest blog John takes us through the ascent of "Above and Beyond".
Above and Beyond. A new route on the Aiguille des Pélerins. ED. M6, 6b+, 550m
Back at the end of March I was just about starting to get moving again after three months of rest and rehab following a knee surgery. I had my meniscus sewn back together which required a long break for the healing to be effective.
Time out is tough, especially surrounded by really motivated people in Chamonix. I spent a lot of time staring at the Chamonix Aiguilles from the balcony. I started back into activity with a bit of ski touring and easy rock climbing, and then I chatted to Will Sim about going to try and finish the route I started in winter 2020 on the Aiguille des Pelerins.
I was just about 12 weeks post surgery when the doctor had said I could start to do some gentle sports again. Will was really enthusiastic about the idea and we packed our bags to go and have a look. We had no idea what the conditions on the face would be like but we thought it was worth a look.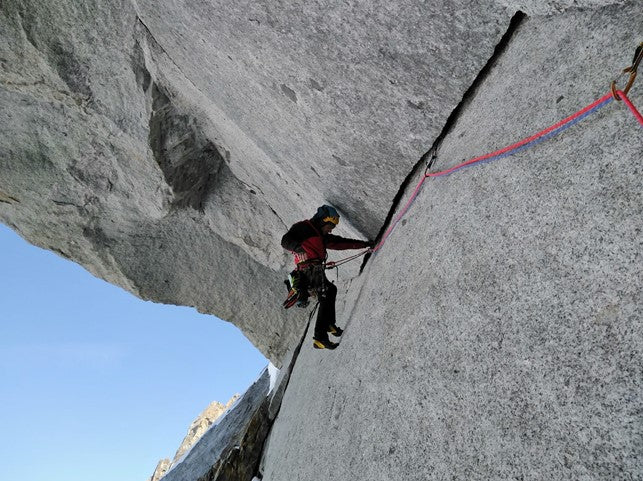 2020 had been very good early winter on the face with a lot of sticky ice and neve around. I climbed the classic "Beyond good and evil" in amazing conditions. While I was up there I noticed a crack running under an enormous roof to the left. I thought that it was a really cool feature and thought it would be cool to go hand jamming out across it.
It looked approachable via a series of mixed corners leading out of the Rébuffat – Terray. I made two attempts in January 2020 with Danny Uhlmann and Chris Warner. The high point of these attempts was the start of roof.
I didn't have a lot of time between work commitments, so these were enthusiastic recces, and I thought I would leave it for later in the year when I had little more time. That time didn't come because we were all locked down shortly after.
So this year after looking at it from my balcony for long enough I thought I should go and check it out again. Every outing in Chamonix this year required quite a lot of motivation, skinning up to from the valley bottom with heavy bags. We spent the night in Plan d'aiguille winter room and started climbing early next morning.
The Rébuffat – Terray was in reasonable condition, so we made fast progress up to the mixed corner pitches where my line broke out left. These pitches were a little dryer than last year, which was better for protection in the cracks, but a little harder to climb.
There are 4 pitches probably around M6. At the top of the corner it gets a bit steeper to a point where there is no snow and ice and its definitely either rock climbing or winter aid climbing.
At this point I got out my rock shoes and chalk bag and finished off the pitch with a pumpy layback up into a hanging belay at the end of the roof. I had abseiled from this point last year. So I clipped into the two cams that I had left, happy to be retrieving them.
We had a good rack of cams and with double Blues, Yellow and Grey. This was a good thing for leading the next pitch as it was long and mostly fist sized, and Will needed to have enough gear to get across on second.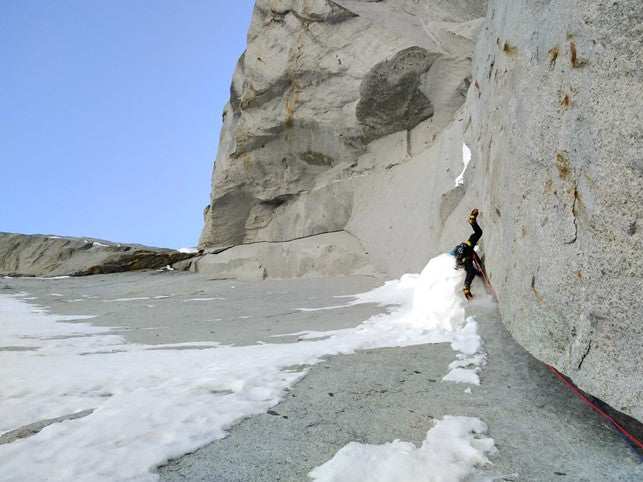 The climbing was really fun. It wasn't super hard with just enough little edges and foot holds, but it did feel very exposed. At the end of the traverse there was a huge flake hanging out of the crack. I was quite scared about climbing around this but after whacking it a few times I had to reason that the extra weight of me in comparison to its size was not going to make it fall out. Thankfully it stayed stuck in.
At the end of the traverse I made a good belay back in mixed terrain and brought Will over. We were unsure what would happen after this point and hoped that some features would continue running up to the top of the buttress. Will took over on lead and set off questing up a series of mixed corners and cracks. After 3 technical pitches the angle kicked backed until we were swimming up sugar snow to the top of the buttress. From here we did a horizontal pitch to find the top of the Rébuffat – Terray which we could abseil 500m back down to the bottom.
We were really pleased with how the route had climbed. I think I knew that it was going to work out getting across the roof but it was really nice that the climbing continued in a logical manner on new ground all the way to the top. The final test for my knee was skiing back down 1500m of refrozen crud in the dark with a big backpack. That was harder than climbing the route, but I took my time, and it wasn't too dreadfully late when we got down. We'd only missed 7 pm curfew by three hours.
We decided to call it 'Above and Beyond' which fits with the theme of the other routes in the area, 'Beyond good and evil', 'One step beyond', and 'Beyond reason'. Also 'Above and Beyond' is a fantastic E6 of Pat Littlejohns at Fairhead that we both have fond memories of climbing.
---
I love these type of climbs that involve a bit of everything. Skiing with my light and versatile Scarpa F1s, mixed climbing in the Phantom Tech, and rock climbing in a comfy pair of Vapour V's.