Last year Scarpa Athlete Tim Emmett embarked on a unique adventure – climbing a route only accessible by paddleboard. In this blog Tim takes us though his climbing by paddleboard adventure.
---
Imagine if your climbing project was only accessible by 3 hours SUP!
On the west coast of Canada, in British Columbia, there's a road that links Vancouver to Squamish and the popular ski town of Whistler. The road weaves its way along the coast, with high tree covered mountains on the right and the sea on its left. Similar to a Norwegian Fjord, driving along this road can be stunning especially in the evening when the sun is setting.
This body of water is called Howe Sound, and is home to a vast array of wildlife including Orcas, Dolphins, lots of fish and also giant Octopus too. There are also a number of islands, and one of them, towering 2509ft high and the most impressive, is Anvil.
The indigenous Squamish name for the island is Lhaxwm. It was an important place of spiritual training. In mythology, a serpent resided at the peak of the island.
On the far western side at sea level, is a cave. It was originally discovered by Jimmy Martinello and Trevor McDonald about 10 years ago. They began establishing some excellent sport climbs on perfect rock on the walls next to it,
In 2015 Jimmy and Trevor told me about the cave. They knew that a climb going through the middle of this vast overhang was too challenging for them so that thought I might be interested to check it out.
This is when I realized that to get to the cliff, was the real challenge, not just the climbing.
Without a boat you had to dedicate 6-7hrs of the day to paddling there and back on a Stand Up Paddleboard (SUP). It's 20km in total and no joke! All of the climbs that were established had been set with this SUP approach.
Added to this the Howe Sound can generate powerful winds and waves which have been known to overwhelm athletes in the past trying to make the crossing in a kayak, who tragically perished.
One evening in February Jimmy, Trevor and another friend Bradford, ended up getting hit by an arctic storm. It was so cold that the sea spray began freezing on top of their paddleboards. They got blown 15km off course, and fortunately they made it to Bowan Island which is the last land mass before being ejected into the open ocean, arriving around midnight.
In 2015, I got my first chance to see the cave. All the climbs that had been done were on the perimeter of the cave, and I noticed an obvious line that went right through the middle of the huge roof. I love steep climbing and knew this was where I would focus my attention.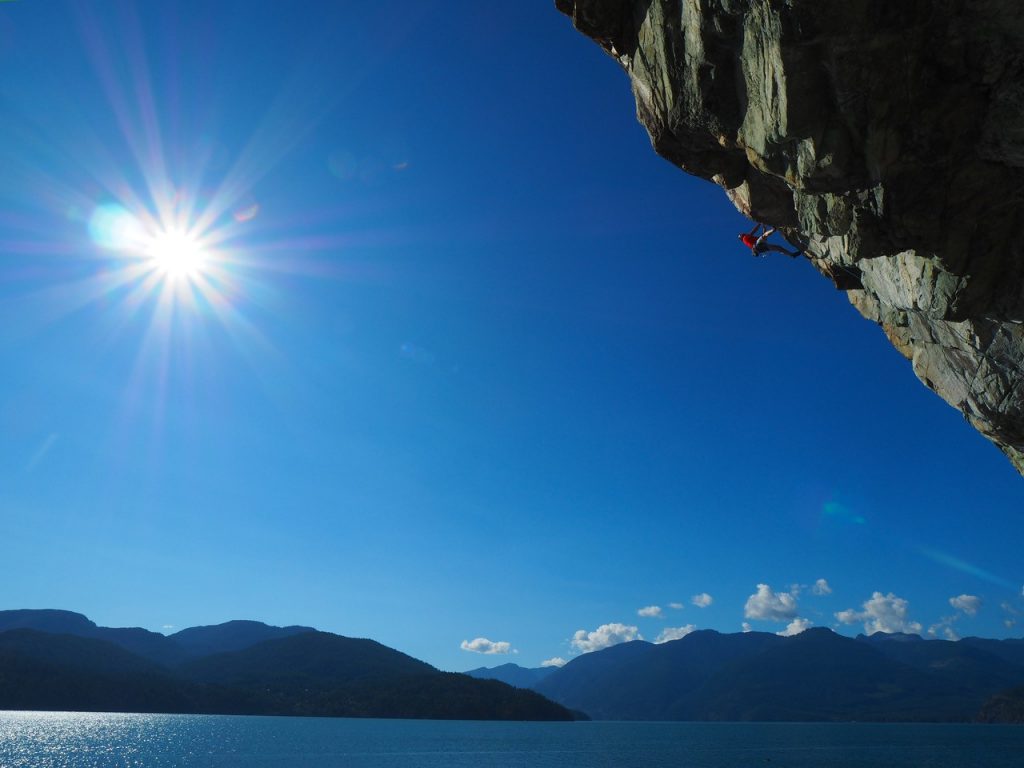 Access to the top of the cliff is not an option so the only way to bolt climbs here is from the ground up. You climb with a selection of pegs, cams and sky hooks. When you get to a placement you transfer you weight onto the hook or piece of gear and then pull up the drill which is fixed to a tag line. Drill a hole, place the bolt and then hang the drill to the bolt with a fifi hook, so that when you get to the next placement you can repeat the process.
Establishing a climb this way is full on adventure especially with the amount of effort to get to the cliff too.
I placed 19 bolts up to a small tree which seemed a logical place to finish this long and very steep climb, which overhangs about 35 feet.
Over the next two years I began projecting it and trying to find a way to link the moves. Being so steep made this tricky, but I eventually figured out a sequence. Game on !
The start goes up a steep wall with a feisty (F7c/7c+) boulder problem by the 5th bolt, where you make a big move off a flared jam to a small crimp with your right hand. You hang this and power up into the crack. (This move shut me down for a long time and it wasn't until I came back from a trip to Spain where I was projecting Era Vella (F9a) that I was able to link this section).
The route then changes nature and goes completely horizontal, with some wild undercut moves with your feet smearing on the roof. Burly climbing on good holds leads to a hand jam under another roof, you blast out through this and get an excellent rest in a corner. By far my favourite part of the climb is the next section where you link together a series of undercuts across an overhanging wall to a big sloping hold where my feet cut loose. Hanging this hold is tricky because is slopes so much! Then you get a couple more hand jams, pull through another bulge then some brilliant climbing that's easier to finish up a flying arete to the tree at the top.
I eventually climbed the route in 2020 and called it Apnea 5.14a (F8b+). I had got into free diving at the time and the diving beneath the cliff is incredible. There is a wall that plunges into the darkness which I had tried to get to the bottom of but it was too deep. A couple of days after climbing the route I attached a rope to a paddle board and hung weights on it with a torch at the bottom. The rope went down the underwater wall to its base and I finally managed to swim down to it at 85ft.
The cave is now called The Dragons Den. There is also another cave next to it but under water with the same name that divers like to explore.
The flanks of the cave now have some excellent sport climbs on perfect rock, up to 35m. The climbing is directly above the water so some routes you can DWS but the routes are high, so going to the top, using a rope is recommended!
I used Drago's on both Apnea and Era Vella. They're my favourite shoes for steep climbing. Precise but sensitive to be able to feel perfect footplacements.