Emma Twyford is one of the leading forces in British Women's climbing. We spoke to her about climbing some of Wales' best lines, women's representation in the sport and how she keeps motivated through the harder times!
---
Hi Emma You've been climbing some pretty epic Welsh lines this summer, tell us about some of the highlights!
I found this year really tricky for motivation due to the various lockdowns and a trip to Hoy with no trad preparation meant that I felt like I spent most of the year fighting to get my headgame back to the right place, maybe that makes it more special that some routes were hard fought. Highlights include:
Cumbrian Yan, Molelwyn Bach (E6 6c) – my first ever first ascent on a route. It felt pretty special to do this route in a ground up/flash style. I managed to reverse to the ground from the kit and do it next go, thanks to Caff for showing the way and giving it a bit of a clean. I named this route after my nephew, Yan is Cumbrian dialect for one.
Surreal Appeal, Rhoscolyn (E7 6b) – definitely on the soft side of E7 I ended up toproping this route clean and then leading it in aheadpoint style. Perhaps I should have tried to falash it but after Hoy I needed a confidence boost and an enjoyable experience, this ticked both those boxes.
Always the Sun, Pembroke (E7 6c) – as soon as I saw this line it summed up everything I love about climbing and I knew I wanted to try and flash it. It's aesthetically beautiful with some great moves but it also gave me flutters of nerves and excitement. As I tied in and set off I felt nervous bringing in my ability to calm myself and move logically but on the head wall crux I had to fight my way through figuring out a shorter persons sequence on the fly. I thought I was off on one move but miraculously stayed on, that feeling of trying hard and staying calm above kit is what I live for and the grin I had a the top after success is something that stays with you for a long time. This route meant a lot to me because it was the first time I'd felt truly myself again this year, I didn't know if I was capable of succeeding but I was willing to give the unknown a go.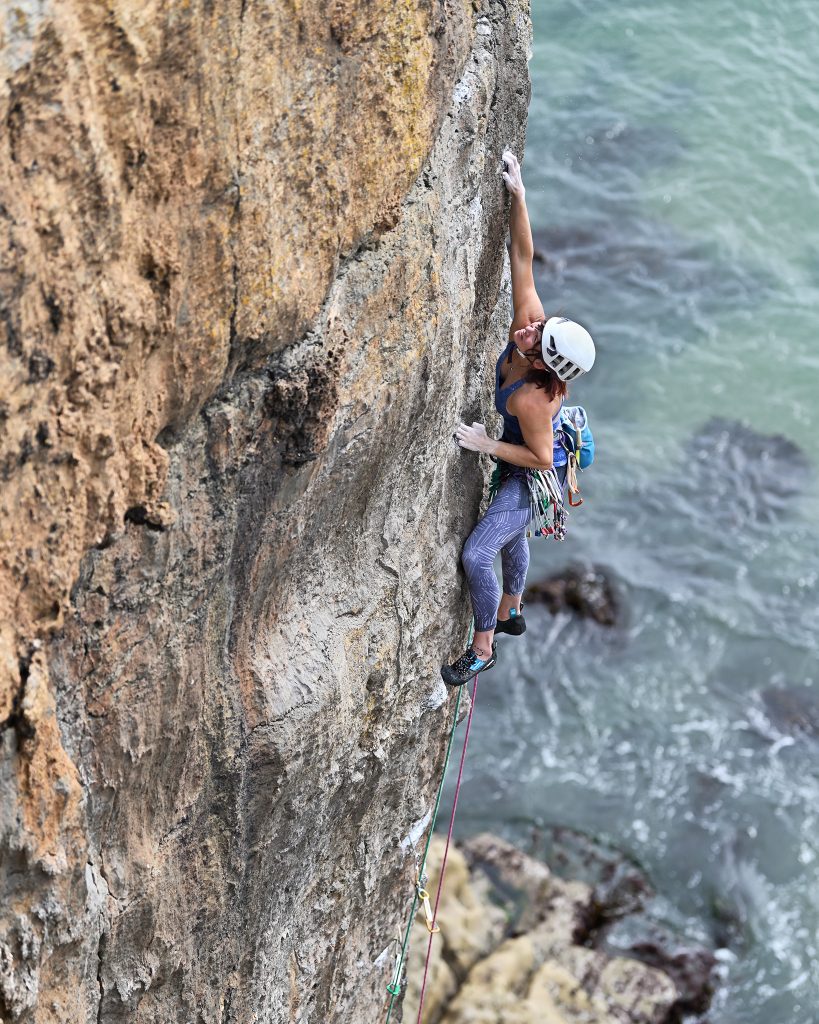 Mercia Wall, Pembroke (E8 6c) – Spicy and technical, I saw this route as a stepping stone to bigger projects that didn't quite culminate this year but I found this route pretty tricky having to figure out my own sequence through the crux. On my first lead attempt I made it through all the hard climbing only to have a foothold break on the E5 section, luckily after placing good kit. A couple of days later I came back, finding the motivation to climb the hard bit again was tricky but the confidence of having done it once saw me through the hard bit in better style. I swear I was more nervous on the E5 section!
Perfect Pitch, Pembroke (6a+ DWS) – before climbing Mercia Wall I went out with friends for some DWS action in the sun. I get pretty scared about going under water, although this isn't the hardest DWS I've ever done I had to hold it together and face some of my fears.
What is it about Wales which makes for such great climbing?
The diversity of styles and rock type is truly special and if you're a keen bean then you can pretty much always find somewhere dry to climb. Throw in the history of climbing surrounding Wales and you've got one of the best climbing areas anywhere in the World.
I may be biased but the climbing scene round here is incredibly friendly and supportive, no one really cares what level you are climbing at, it's about having fun.
A few years ago, we spoke to you about Creative Climbing and your ambition to help more women get into route setting, how has that gone over the past few years?
Well Covid and lockdowns definitely slowed things down! We were about to run a workshop just as the first lockdown hit but it has been really nice to see some of the women we taught setting now.
As events are starting to run again we are doing a route setting workshop at Kendal Wall in line with the Film Festival in November. We have changed how we run it a little bit focusing in on women who already work at climbing walls but are keen to learn to set. Hopefully we can gain more momentum from here and run some more workshops in the future, I personally think there is a need for it.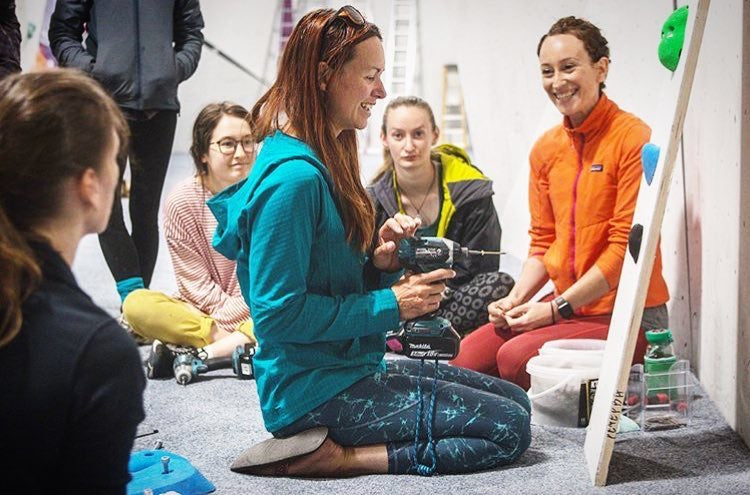 As someone who has been around climbing for a few years now, do you think there has been some positive changes in terms of women's representation in the sport?
On the whole there have been many positive changes with more strong female role models and female specific events like the women's climbing symposium, the Fontainebleau women's bouldering festival, Bishop women's bouldering festival etc.
We're seeing more female setters working within teams and more female staff and coaches working at walls which is really good to see. But we also have to be careful not to go too far in the wrong direction. These events are a really great way to empower women but we must also be careful not to alienate men or non-binary people. And I think Zofia who organises the Font women's event and identifies as a genderqueer person sums it up perfectly.
We need to be careful that these events or clubs don't pander too much to stereotypes and constraints, I guess the future lies in working together to listen and educate. It shouldn't be an 'us' and 'them' situation for the changes to be truly positive and to see that diversity spreading more form indoor gyms to outdoor spaces.
You were the first British woman to break the 9a barrier have you always wanted to break down boundaries or is it just a natural evolution of your climbing progress?
Before my mid 20's I would just climb with no real direction. Once I hit my mid 20's I realised I wanted to push myself as far as I could go, thinking I would hit my limit each time. But that's the cool thing about climbing; you train smarter and learn new tricks each time that make you a better climber. Yes I've wanted to break down boundaries but for the main part I just want to see how far I can push myself, I think our own personal limits are there to be tested and knocked down.
As we have mentioned you have done a lot for women in climbing, who are the young women coming through to watch out for?
There are so many strong young climbers coming through now, it is really great to see and I'm psyched for the future of women's climbing. Of course there are many strong international female climbers already so to focus in on the female UK talent.
First up would be Molly Thompson-Smith, I mean she's already crushing it but I'm sure she will take British female climbing to the next level. Rhoslyn Frugtniet is consistently climbing at a hard level with more to come. Emily Phillips, Holly Toothill, Lucy Garlick are also some very strong young guns to watch out for!
You've been a competition climber, coach, route setter and done just about everything a climber can do, so what are your plans for the future?
I guess I'm not the spring chicken I once was and how to navigate my future is always a tricky one. I love route setting but it is incredibly demanding though I'd like to continue doing it for a bit longer, I often get asked why I continue to do it but I love the creativity and the satisfaction of making a route or boulder that's cool.
I'd like to move more into coaching and my hope is also to do a sports massage course. Whether I settle down and have a family is still on the fence for me but I'll cross that bridge when it comes.
In terms of my climbing I'd like to keep pushing my limits for as long as possible and then to just have fun climbing for myself, people like Robyn Erbesfield-Raboutou and Angela Soper are inspirations to me in that sense. I hope climbing is in my life for a long time to come.
---
This is part of our series of blogs focusing on our amazing Scarpa Team, check out the others in the series, including our chat with Robbie Phillips.

Want to keep up with the latest from Emma? Follow her on Instagram: @emmatwyford.