Say hello to Alex Waterhouse – the newest member of the Scarpa team. Alex is a British competition climber who is part of the GB Team. We chatted to Alex to find out all about how he got started climbing, his goals for the future and his life in the world of climbing.
---
Hi Alex, welcome to the Scarpa Team. Tell us a bit more about yourself and how you got into climbing.
Great to be here! My name is Alex Waterhouse and I'm (mostly) a competition climber on the GB team, pursuing competing on the World Cup circuit and hopefully the 2024 Paris Olympics. I'm 24 and originally from Devon, but I currently spend most of my time in Sheffield training and preparing for the comps.
I started climbing in 2008 through a school club, then my Dad bought me a chalkbag for Christmas and we were hooked! I started competing a few months later through the YCS and made the British Junior team a couple of years later, spending the following years competing across the world in Junior internationals in both Lead and Boulder. I took a couple of years off comps to attend university in the USA, but I returned in 2019 determined to make the senior team and compete on the World Cup circuit.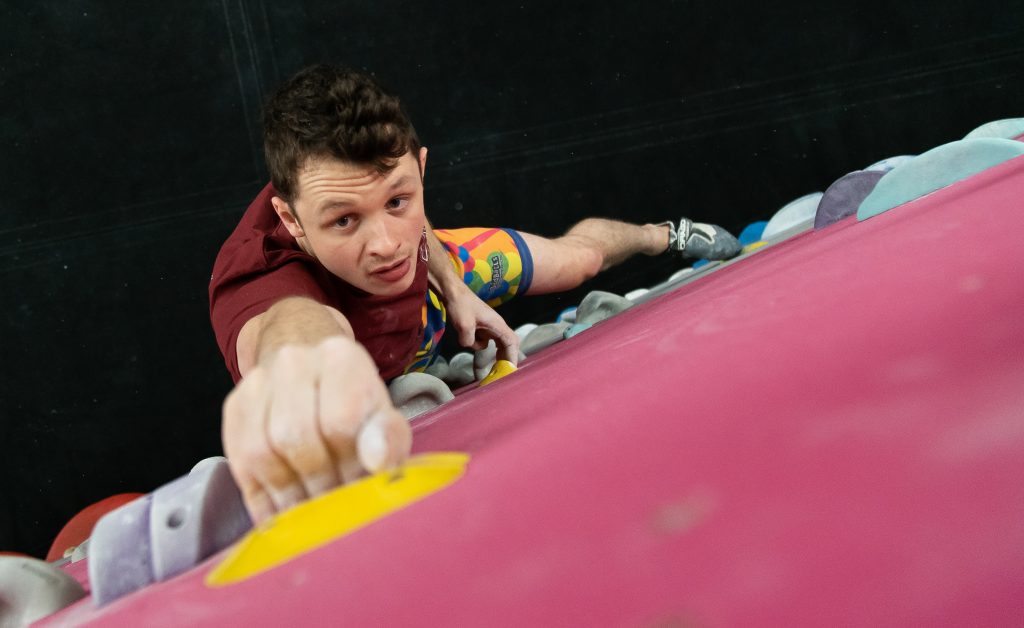 What do you like about Scarpa shoes? Why did you want to join the team?
I've tried a LOT of shoes over the last couple of years! They are the one piece of equipment that can make the biggest difference in climbing, and when we spend so many hours optimizing our training to be as good a climber as possible then I think we should do the same with the equipment we use.
Scarpa has been on my radar for a number of years, but what I see as the flagship comp shoe (Drago) didn't quite fit my foot, so I was never able to try the range. The release of the Drago LV changed that completely, and the low volume shape fits my foot like a glove.
I have been incredibly impressed with the performance, longevity, and comfort of the shoes, and the Drago LV / Instinct WMN combo (Instincts are great when there's a small foot that requires a lot of weight through an edge) is the perfect comp setup for me. Basically, I strive every day to be the best climber I can be and Scarpa makes the shoes that make me the best climber! I'm also very impressed with Scarpa's commitment to sustainability, and am excited to start resoling my training shoes rather than hoarding them in a cupboard for years before chucking them in the bin!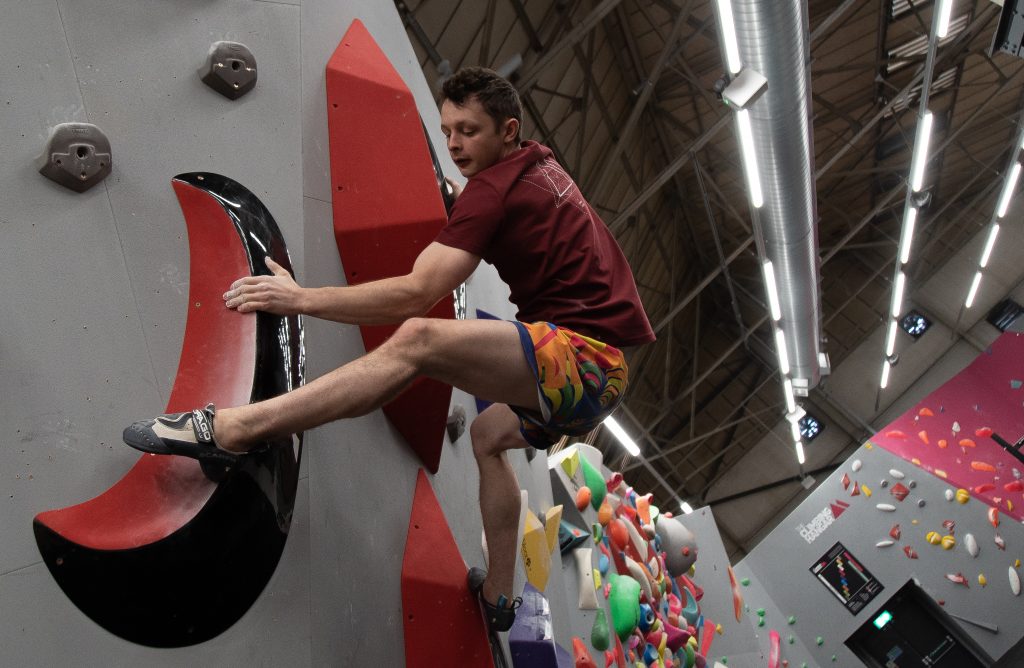 You are currently on the GB climbing team competing on the international circuit, how has the season gone for you this year?
After the 2020 season was all but cancelled due to corona, this was my first season on the international circuit. World Cups are a huge step up from national level comps, but I was lucky enough to make the semi-final at the SLC WC in bouldering and end up in the top-10 as my second international back in May. Last week, I finished out the year with a final at the Lead European Cup in France.
This season was all about learning for me and gaining as much experience as possible, so to end the year with a couple of great results is really encouraging and has got me motivated to train hard this winter and push for more next year.
Fingers crossed we should have a full competition calendar next year, what are your ambitions for the coming years?
Well, the big goal is to qualify for the 2024 Paris Olympics! It's a long road to get there and I'll need to make some big improvements if I want to be in with a chance, but 2022 is all about upping my game on the international circuit and continuing to gain experience at that level.
Any top tips for younger climbers who are looking to get into competing?
Keep it fun! Don't take yourself or the situation too seriously, I climb my best when I'm having the most fun and it makes competing worth so much more than the result.
Away from competing you've done some pretty impressive ascents, take us through some of the highlights.
In 2019 I climbed my first 9a (The Fly, Rumney, USA) and 8B+ (New Base Line, Magic Wood, Switzerland). These 2 climbs had been on my life list for years, so to get them ticked off in pretty quick succession was proof that my training was paying off! I try to get out wherever I can in-between seasons, and have put up a number of first ascents in the South West up to 8B+.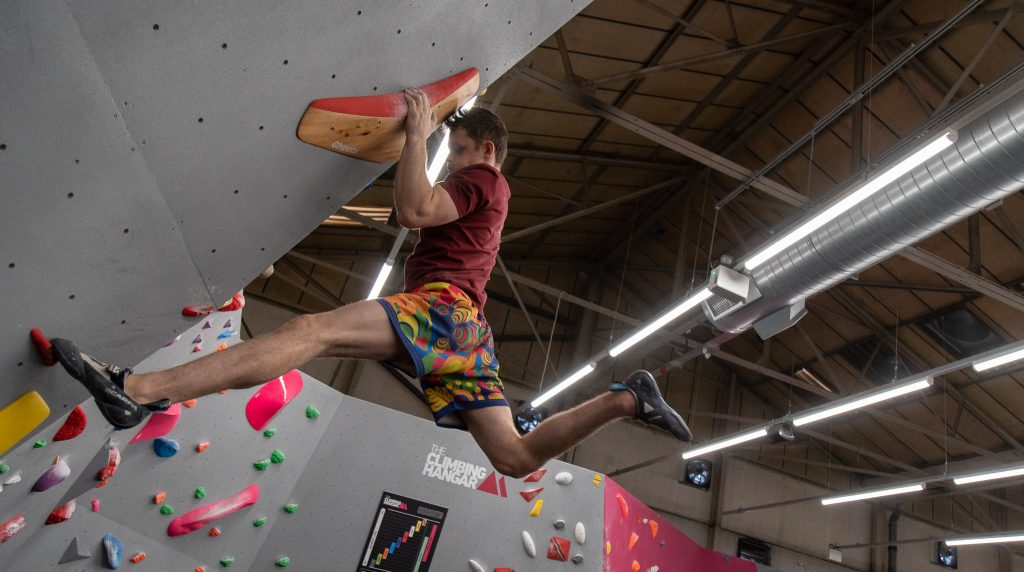 Any projects in the pipeline?
This winter is going to be all about levelling up for 2022, so I suspect outdoor blocs will have to take a backseat. However, Perky Pinky (8B) on the School Room 50-degree board is calling my name…
You've started your own business making holds in the UK. How did that come about?
Max Ayrton (competition routesetter) and I started Contact Holds earlier this year! Brexit has made getting fibreglass holds into the UK much more difficult and expensive, so we decided to start making them here in Sheffield. It's been a lot of hard work, but the response has been incredible and the business is growing faster than we ever could have expected. Running a business and climbing full-time is tough, but I'm learning to find the balance and sacrifice where I need to. I'm definitely excited to wake up and get going every day, whether it's Contact or training on the agenda, so I'm definitely on the right track!
You can keep up with the latest from Alex on Instagram: @waterhouseclimb