It's that time of year again! The summer has officially ended and the warm Autumnal colours are starting to set in. Whilst most people are sad to see the British summer draw to a close, there are some who are excited by the prospect of those crisp cold mornings. That's right, it's the time to dust of your gaffer taped up old down jacket and to put on your favourite pair of thermals. Gritstone season has arrived!
The Gritstone outcrops of the Peak District National Park are an incredibly special place to climb. Steeped in history and offering some of the best single pitch routes and the most iconic boulder problems the UK has to offer. The cold temps and low humidity are the two ingredients necessary for optimum friction!
From a young age, I have always made time to make the journey from Kent up to the Peak District. Although it's far, it's definitely worthwhile to get a chance to climb on the incredible rock and to sample some of the best routes in the area.
When asked to write an article on my top 5 Grit routes, I initially thought it would be an easy task… However, due to the large volume of amazing routes, it was difficult to narrow this down to only 5. I have chosen the following climbs, as they are the ones that are the most memorable.
5. Sunset Slab HVS 4b – Froggatt
I first climbed Sunset Slab in 2006. At the time I had already climbed several E grades harder than this, but this one still seemed intimidating to me! Teetering up the slab, with a big runout, was as exhilarating as many of the other more difficult routes I had climbed. Although technically not very difficult, a cool calm head, good footwork and a quick prayer to the friction Gods are essential for a successful ascent.
4. Three pebble slab HVS 5a – Froggatt
I was torn as to whether I should include this climb or not as it is relatively similar in style and grade to Sunset Slab. However, I had to choose it, as it is a true classic. It was definitely a bit of an epic; frantically smearing my way up the blank head wall will forever be cemented in my memory. I did Sunset slab one morning in 2006, and later that day managed to climb Three Pebble Slab (at the time an E1), it was as though one was a perfect warm up for the other. There isn't much in the way of 'actual holds' on this climb, and the pebbles for which the climb got its name are nowhere to be found. Make sure you squeak your boots and imagine Joe Brown on the first ascent in 1948 whilst climbing to enhance the experience.
3. Archangel E3 5b – Stanage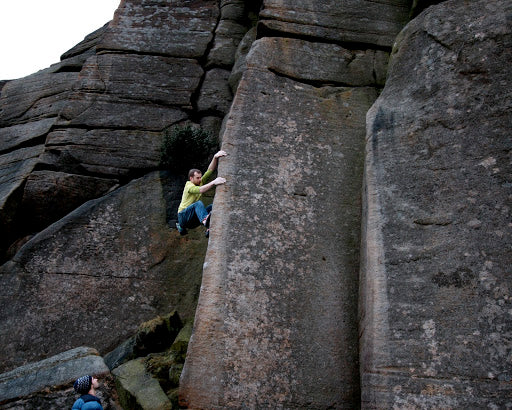 Archangel is one of the best routes, at one of the most popular and well-known crags in the Peak. It is a sharp blank arête jutting out above the plantation boulders. It requires full commitment and belief in friction in order to battle against the barn door. Forget about the raw power required on the campus board, only technique and a positive mental approach will help you on this one. With no 'real' holds, or gear until half height, it offers a serious masterclass in lay-backing skills. A 'snowball' ascent of Archangel in my late teens offered a slightly safer option, although the melting snow dripping down from the top of the crag made for an unforgettable and somewhat sketchy experience!
2. Life Assurance E6 6b – Burbage South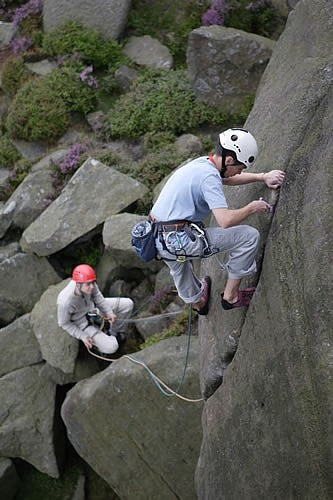 I'm not sure if it's one of the more popular routes in the area, or how many people would include it in their 'Grit Top 5', however, for me it definitely makes the cut. As a fresh faced 16-year-old it was my first real introduction to hard gritstone climbing. It is technically quite challenging having only smears for holds relatively high above the gear. The potential for a ground fall was a relatively new experience for me at the time, and I loved it. For a 5'nothing teenager the crux last move was an exciting finish to end an experience I'll never forget.
1. End of the Affair E8 – Curbar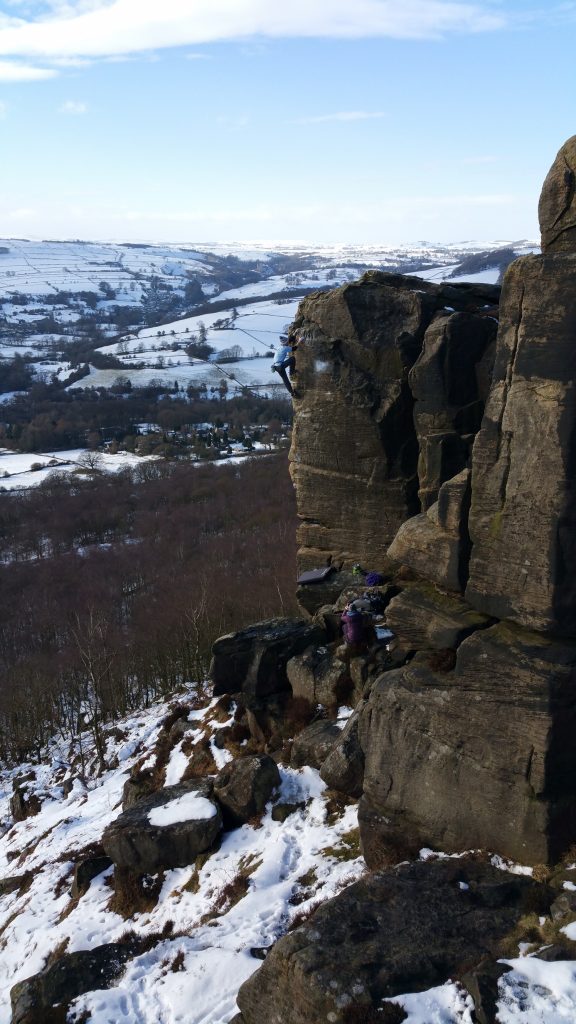 The day of the ascent really epitomized the Gritstone experience. Cold, low humidity, sun shining, snow on the ground, just my girlfriend and me with nobody else around. End of the Affair is a perfect arête protruding out from the crag. It is a series of both amazing and committing moves high above gear with a rocky abyss below. I had been inspired by this Dawes masterpiece for over 10 years, ever since watching Leo Holding climb it in the film Hard Grit. Several unsuccessful trips previously, due to bad conditions, made making the ascent seem even more meaningful. Ditching the rope and gear seemed fitting for the occasion, and I was lucky enough to be photographed on the climb by a passer-by, with the picture now appearing in the new Eastern Grit guidebook.
So get out your old VHS copy of Hard Grit and get inspired!
Suggested Shoes for Grit