We caught up with new SCARPA athlete Simon Roberts after his amazing win at this year's Montane Spine Challenger North. Simon is an accomplished Ultra runner and a great addition to the Scarpa run team. We talked to him about the challenges of this race, how he celebrated and Simon's plans for the future.
---
Hi Simon, Congratulations on recently winning the Montane Spine Challenger North. Can you tell us a bit about this new race for 2022?
So, this is one of the new races in the Spine Race series, the Challenger North which starts in Hardraw and finishes at Kirk Yetholm, so it's the back 160 miles of the Pennine Way. I feel the back half is the better half, it has the best tourist attractions such as the Tan Hill Inn, High Cup Nick, Crossfell and Greggs Hut, Hadrian's Wall and finishes off with the Cheviot Mountains. That being said if you arrive at the hot spots at night, you won't see anything.
How did you feel going into the race?
I felt ready, even though I did not have the best build up, I fell over and bashed my knee about 5 weeks out so had a pretty big taper, but when it came to race week, I was feeling very ready. I was also feeling that the race was mine to win, I just had to keep my body together and work hard to get the job done.
What were some particular high and low points for you throughout the race?
Yes, you will always have highs and lows in races of this length and difficulty. A high for me would be Crossfell, this was also a favorite of mine from my 2020 Spine Race. Crossfell is a real challenge, in winter you can get some real arctic conditions up there. Really high winds, it has the only named wind in the UK which is the 'Hell' wind. You get waist deep snow and ice and you'll will still find deep bogs if you step off the trail. At the top you will find the mountain refuge 'Greggs Hut', on Spine Race, some of the crew will live up there for the week and will cook the racers the famous chili noodles and make them a brew, its great! We call it the noodle bar.
A big low for me when sickness struck on my way to Greenhead. I could not keep any food or fluids down for a few hours, this then led to me slowing down a lot. I reached a point where I found it difficult to move one foot in front of the other. Quitting did cross my mind as my stomach was hurting and I had no energy to move. I took some stomach medication and I then went for a 10-minute power nap next to Hadrian's Wall. This made me feel much better and within an hour I was running with some speed again.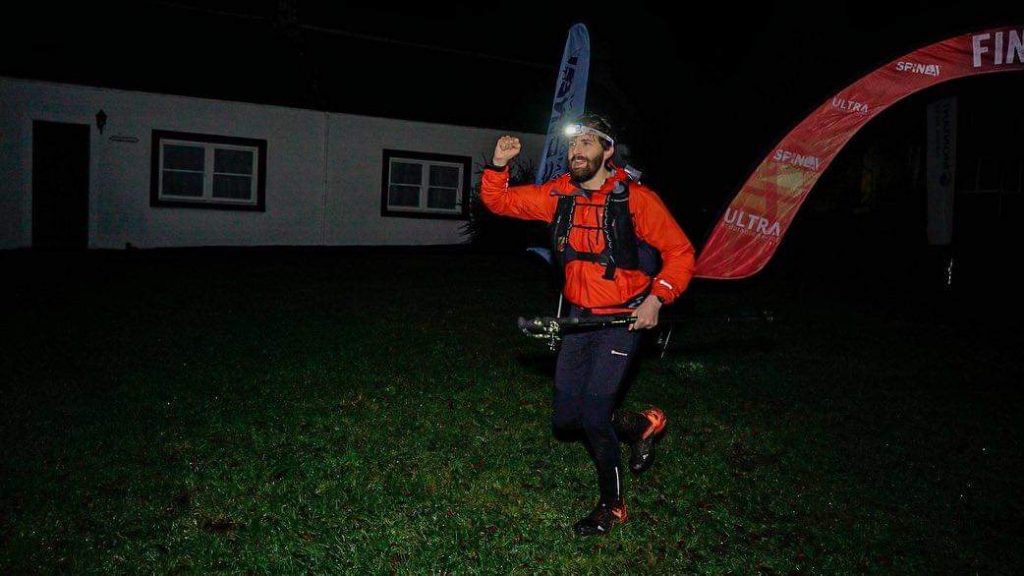 Did you realise you had such a lead on other racers? It must have been like you were racing your self at points how do you stay focussed with no one else around?
So straight from the off I went hard up Great Shunner Fell and created a big lead but I was never aware of how big the gap was, I don't really like looking behind me for some reason, maybe that keeps driving me forward, not knowing where the guys chasing me are, only means I need to keep working hard to maintain a lead. I would only find out how big the gaps are when I entered a check point and I could then check the tracker. I created something like a 20-mile gap at the end which is a pretty big lead.
I was on my own for all of the race, at night in the fog running on some challenging terrain things do get a bit intimidating at times but I know I must keep moving forward!
There was a moment on Hadrian's Wall, I saw a runner with a headtorch chasing me, I did panic but it turned out to be just some random runner on an early morning jog.
It must have felt great to win – how did you celebrate?
Simple, when I got home, I had pizza and ice cream!
Just finishing Spine Race will bring a smile to anyone's face, it's a real challenge and will test everyone. It's a huge relief to finish something like that. Winning it just makes the feeling sweeter, it's a top feeling!
How do you deal with he sleep deprivation during the race?
Sleep deprivation will hit everyone at some point, the obvious way to deal with it is to go to sleep. You can get a proper sleep at the checkpoints or you can slum it and sleep on the trail. Sleeping however does use up race time so people will push the limits and try to sleep as little as possible. After a good while with no sleep, you can start seeing and hearing hallucinations. As I was descending down from the Cheviots on the final stage, I was seeing lots of funny and weird looking animals everywhere it was really bizarre, I was also hearing lots of voices talking to me.
Can you tell us a bit about your training regime going into such a long race?
So, there is nothing really special that can prepare you specially for Spine Race, I don't think anyone turns up completely prepared. All you can do is make sure you get lots of long runs under your belt and carry the heavy back pack with the kit list that you need for the race. It's also good to work out what things you will do when you enter checkpoints so you don't waste time faffing.
What's next for you other challenges for 2022?
So, my next big adventure with be the Cape Wrath Ultra in Scotland. It's an 8-day expedition race from Fort William to Cape Wrath, the most northern point in the UK. Really looking forward to this, the scenery looks stunning!
Then in September I will be racing the Dragons Back Race again. This will be my third time, but this time I will be defending my title, really looking forward to it.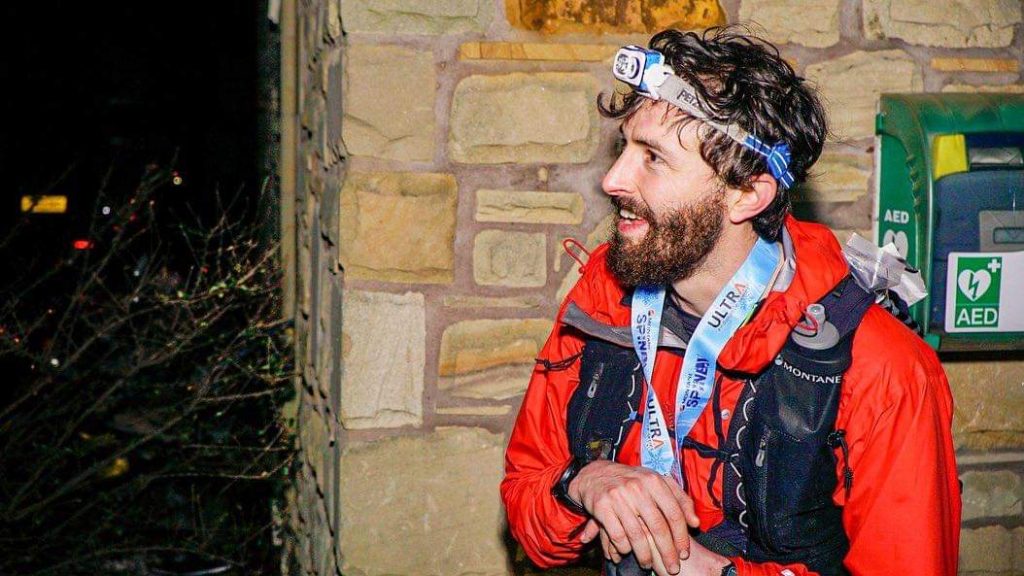 ---
Want to keep up with the latest from Scarpa and our athletes? Follow us on Facebook and Instagram.