SCARPA athlete Carmine Grandis has been putting the multi-award winning Spin Ultra through their paces in different conditions, trails and locations. Check out what he had to say below:
A daily ritual in my life is to decide which trail running shoes I will use. I have so many that a number have been moved to the outdoor office – also known as the shed. My wife seems to think that one pair will do. I agree partly. One pair "at a time" can definitely do.
The way I look at my running gear, especially my shoes, is very simple: I need to be able to trust it. I need to feel confident that my feet will be able to help me move fast and efficiently through any terrain I cross, to reach my goal whether that be a race finish line or to complete a personal challenge.
SCARPA Trail running is quite new to the UK market. While SCARPA is one of the most established names in hiking, climbing and mountaineering, #scarparun is definitely a development of this successful and trusted Italian brand. One of the best mountain runners in the world, Marco De Gasperi, is leading the development of SCARPA run to become one of the household names for trail running shoes worldwide. SCARPA run's philosophy for their trail running shoes is "to deliver the perfect balance between weight and performance".
Out of the box the SCARPA Spin Ultra comes in vibrant colours which look and feel like fun. Underneath the fun look, there is a very solid, performing and specific shoe. Extra cushioned, yet incredibly light, the SCARPA Spin Ultra only weigh 560g for a pair of size UK 8. They are designed for mid to ultra-distances. The special tongue construction is designed to keep the upper close to the foot with a perfect sock-fit construction. The VIBRAM sole provides excellent grip with mid-size lugs. The shoes also have a TPU toe cap.
ULTRA RUNNING TEST
I received these shoes the day before I ran the Norfolk Coastal Path (85 miles of varied terrain). I wore them from mile 37 as the other shoes I was using had given me blisters. My previous experiences had always been that blisters can destroy the outcomes of any race. The shoes performance was excellent. I completed my challenge and set a new Self Supported FKT. I wish I had had the confidence to use the SCARPA Spin Ultra from the start of my challenge, I would have probably been faster and in less pain.
WOODLAND TRAILS TEST
North Norfolk has some great trails, but not rocky ones. In order to practice technical running, I often take to woodland trails. I have found that while these shoes are quite supportive, they are also responsive and well cushioned. No hot points under my feet run after run. Another "plus" for these shoes.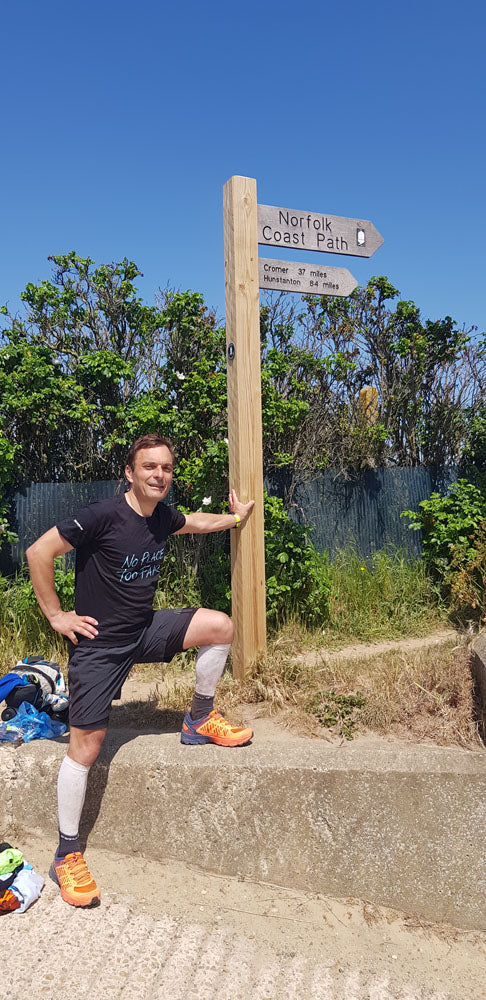 COUNTRYSIDE TRAILS (DRY AND WET CONDITIONS) TEST
Living in the countryside means that I have had to often run in wet, muddy conditions. I went for several runs in heavy rain when many trails were under water. Apart from the tongue retaining some of the water, the shoes shed the mud and the water easily and did not become much heavier. Drainage can be improved though and SCARPA is already working on this.
SEASIDE BEACH (SAND, WET ROCK AND SHINGLE) TEST
I find running by the sea really refreshing – pun intended! A real test of trust for the shoes I wear is how well they help me move on sand, shingle, loose rocks and – sometimes – water. The performance of the Spin Ultra has been a real surprise. When running over wet rocks during low tide, the soles remained grippy and I did not have to worry about falling or slipping every other step.
FASTEST KNOWN TIME/RECORDS BREAKING CONDITIONS TEST
A real opportunity to test the shoes came when I had the privilege to join my friend and coach, GB athlete Kim Collison, in his record breaking attempt at setting the new "Lake District Fell Record" – this consists of reaching the highest number of Lake District peaks over a 24 hour period, starting and finishing at the same point.
I travelled to the Lake District and went for a short personal run over boggy and rocky ground. I was not sure how they would perform off the beaten track. Again, I was positively surprised. My trust in the Spin Ultra's capacity to perform on technical ground was boosted. During the night time support I ran with far stronger athletes than myself.
However, I managed to hold on, provide encouragement and stay on my feet on technical and steep grassy ground. Anyone who has run in the Lake District knows that steep grassy ground makes for excellent "bum shuffling" … I did not fall once. The Spin Ultra confirmed themselves to be reliable and versatile footwear.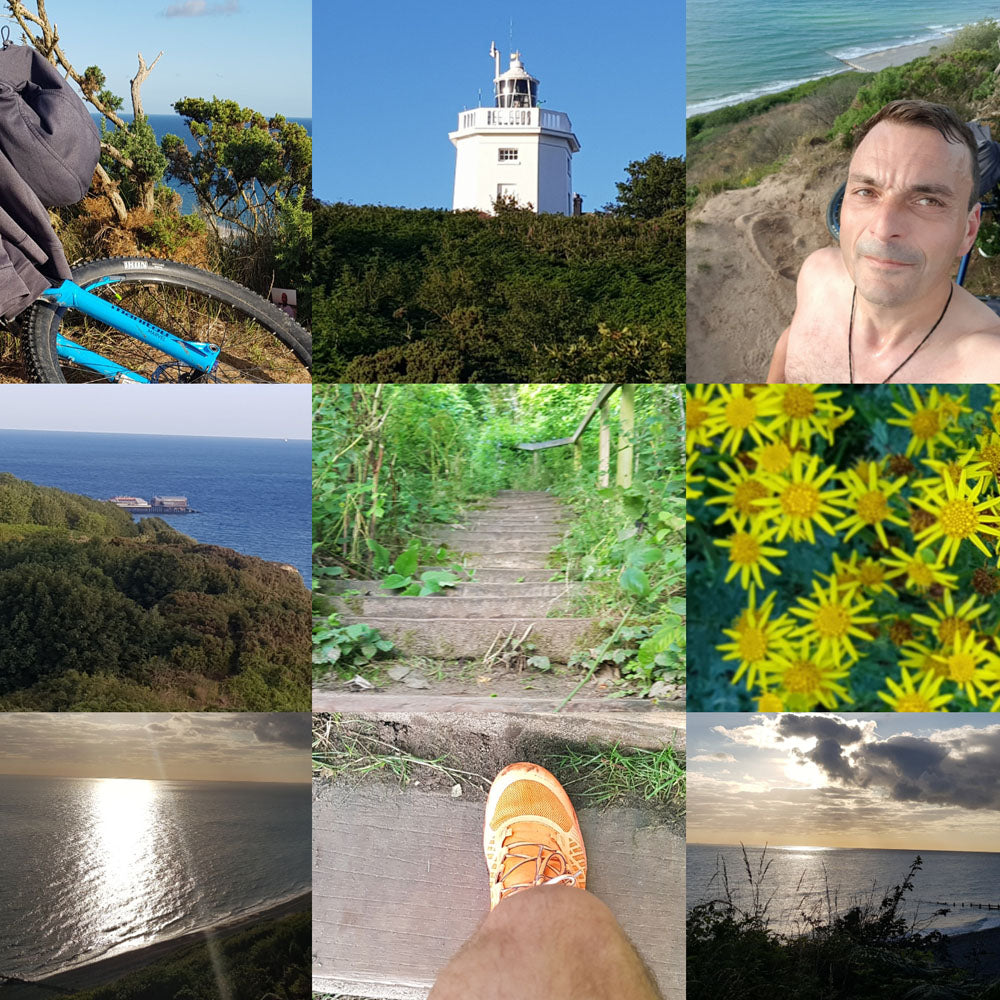 FAST PACKING, FELL RUNNING IN THE LAKE DISTRICT (HIGH GROUND AND PEAKS, NORTHERN AND EASTERN FELLS) AND TRAIL RUNNING IN NORTHUMBERLAND TESTS
I carried out the last two tests in some of the most beautiful trails/outdoor spaces the UK has to offer: The Lake District fells and the Northumberland beaches. In short, I did not have any doubts in choosing to wear the Spin Ultra. I did not have to worry about my feet during my runs and hikes and most importantly my feet were in good condition when I got back and I was ready to put my feet up. I have already run more than three hundred miles in these shoes and they still feel and look like new – not even my unintended meeting with a metal spike sticking out of the ground has managed to break them.
MY VERDICT
I highly recommend these award-winning shoes because they are light, comfortable and fit well, even wide feet. If you do not like bright colours though, you will be noticed and you will be singled out as a fast ultra-runner, whether you are or not . These shoes do not come in half sizes. I normally wear size EU 43.5/UK 9, so I went for size EU 44/UK 9.5. However, as I have discussed in this review, good fit has not been an issue at all.
SCARPA Spin Ultras are available to buy now. Check out the full range of SCARPA trail running shoes at scarpa.co.uk/run