At the end of 2017 Scarpa Athlete Uisdean Hawthorn spent 3 months touring Tasmania; climbing anything he could get his hands on and running up or through everything else- a relaxing holiday it was not. His highlight of the trip was tackling the famous Totem Pole. A 65-meter sea stack coveted by climbers across the globe.
Read on to get Uisdean's account of the ascent.

---
Words by Uisdean Hawthorn
Ry's messages cut straight to the point. "I'm only in Tasmania for 5 days. Any chance we could climb the Totem pole at some point?!?"
Two weeks passed and amazingly my plans fitted with Ry's and even more amazingly the weather, conditions, swell and tide were also playing ball. The night before we left we were sitting in Ry's Air B+B. Ry rocking back and forth in his chair with excitement as plans were made, his 6ft 4 frame made the chair look like it was designed to be in a primary school.  He started talking about how many years it was since he first heard about the Totem Pole. I would have still been in primary school! I couldn't help but think I didn't know what it was less than a year ago.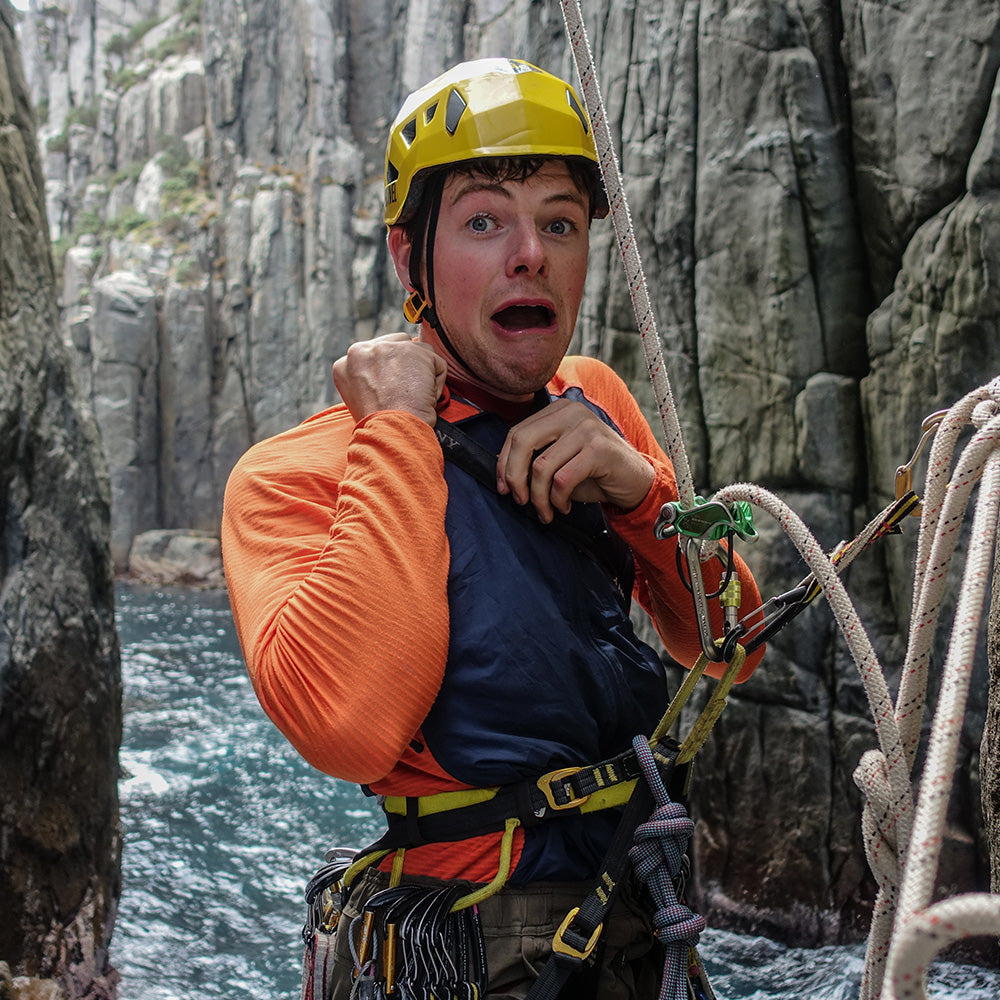 "Sorting out the tanged rope on the hanging belay as the waves crashed right below our feet only added to the excitement."
The next day Ry's excitement was somehow even higher, and I had become infected with it. After the walk out to the tip of the Tasman Peninsula, the excitement started to become a problem. Firstly, we walked off down to the abseil point with one cereal bar between us leaving the other food with our friends who had come out for a walk. Secondly, we abseiled down the static line having not flaked out the climbing rope. Sorting out the tangled rope on the hanging belay as the waves crashed right below our feet only added to the excitement.
Rope and logistical faff finished with I set off up the first pitch feeling quite nervous -I had heard the pitch could often be wet and greasy. However, I was surprised to find it bone dry and the climbing to be absolutely brilliant, heading up a vague groove/crack with nice positive edges to pull on while the sea crashed below.
When Ry reached the belay ledge his eyes lit up showing he shared my opinion of how good the climbing was. He looked slightly apprehensive before setting off up the second pitch but was soon moving smoothly upwards until suddenly, he wasn't looking quite so smooth. "Elbows in the sky!" he shouted, made a desperate throw for a hold and was flying through the air. A few swear words later I lowered him back to the belay ledge.
After a quick rest, he was setting off again. This time he looked smooth all the way – until a foot slipped off the rock followed by the rest of his body. By the third go, Ry was tired and fell off before his previous high point. He sat on the rope and then carried on to the top as by now our friends Heather and Nathan were waiting on the belay ledge next to me.  I seconded the pitch quickly to get out of Heather and Nathan's way. I was sure I was falling off at one point but somehow managed to stay balanced enough for my weak post-expedition fingers to keep me on the arete.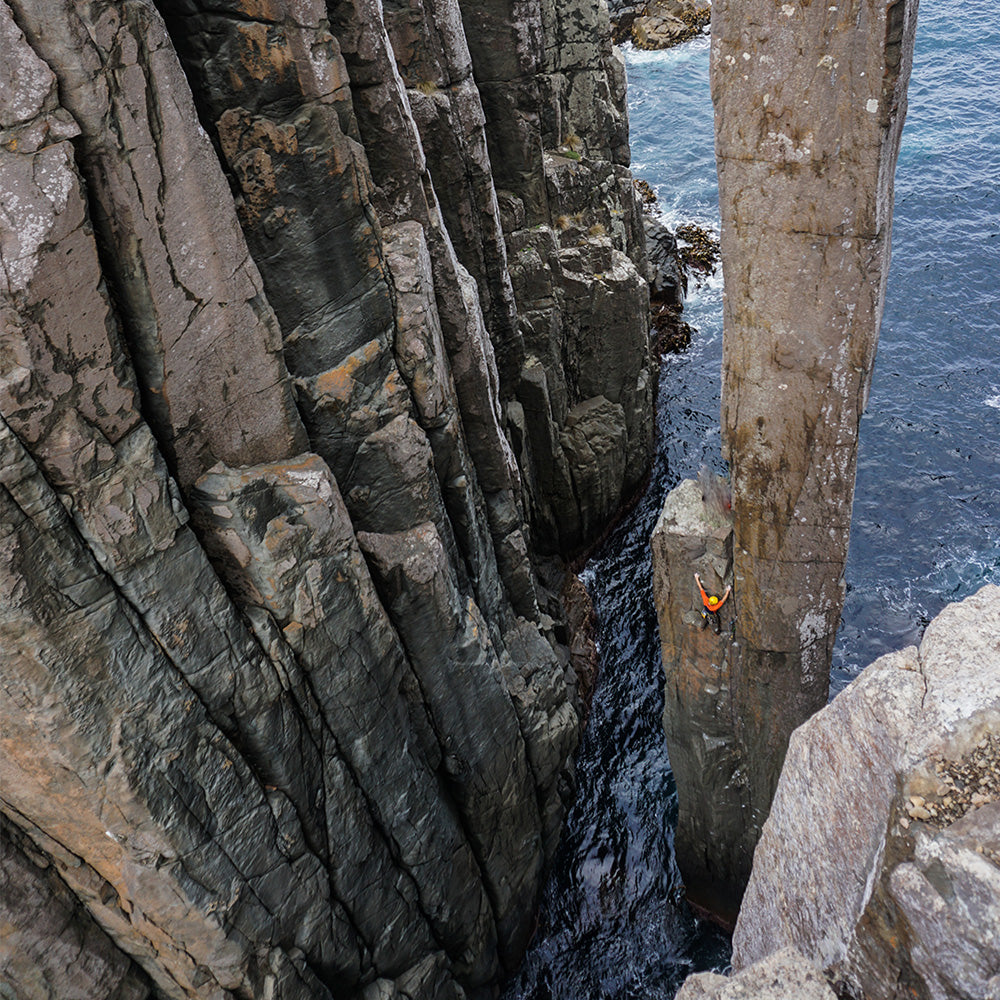 "If you have ever thought what Scotland with good weather would be like then I can't recommend Tasmania enough!"
Ry and I laughed at the top describing every move back and forth to each other all the while taking in the outrageous position. Once back across the Tyrolean traverse, I realised I was extremely thirsty and hungry which wasn't a surprise as it was now 4 pm.
I spent 3 months in Tasmania. The Totem Pole was definitely one of the highlights especially because Ry was so happy he got to do it. Every day I spent there was extremely good from endless splitter dolerite cracks, adventurous mountain trad, endless trail running bushwhacking through thick scrub and running along perfect golden beaches with no one else around. If you have ever thought what Scotland with good weather would be like then I can't recommend it enough!
---
Check out Uisdeans Scarpa Team profile for more info on the young mountaineer, and take a look at our summary of his recent record-breaking winter traverse of the Cuillin Ridge in Skye.
Scarpa Instinct Line