Joining the SCARPA athlete team is keen boulderer and sport climber Frances Bensley. Frances has been climbing for over 20 years – find out more about her life in this introduction to Team SCARPA.
Hi Frances, welcome to team SCARPA.
Can you tell us a little bit about yourself and your history with climbing?
I started climbing about 20 years ago with my dad at our local wall, probably like many people who started climbing at a young age and I have some great memories climbing together as a family.
It now feels like climbing has always been a part of my life and the older I have got, the more I have found a love and appreciation for the sport. My early years were spent almost exclusively indoors, and it was at a time where I don't really remember bouldering being such a focus for me, so most of my climbing was spent top roping or leading. I was encouraged to enter the BRYCS and in the second year of entering I managed to make it to Ratho for the final and fluked my way onto the podium, coming 2nd overall.
I would not call myself a competition climber however and I think this has become very apparent over the years. Despite continuing to enter competitions on and off throughout university and more recently as well, my focus has become fixed on outdoor climbing. Climbing outdoors is where I currently find the most enjoyment and it is what I am the most inspired by.
Photo Credit – Alice Bensley
Up until recently I have always really struggled to set myself goals and I was quite happy to potter along – I was always trying hard, but my climbing lacked any structure and I don't think I fully comprehended how much of a difference training certain weakness and dedicating to a project can make. Because of this I think psychologically I have spent a lot of time within my comfort zone and I found it quite intimidating to break out of that and make the decision to set myself goals. I don't see this as a negative – sure, maybe if I had decided to make goals and set my ambitions higher then I might have got to where I am now faster, but I would like to think I have a healthy relationship now with climbing and I'm probably more psyched now than I ever have been!
What is your favourite climbing area?
I think that is a hard question because even though I have visited various different locations both in the UK and abroad, I feel like I have only just started to scratch the surface of outdoor bouldering! I would say that my preferred style of bouldering tends to be on the steeper side, generally quite basic and on crimps – so places like Magic wood in Switzerland would be a contender. In terms of outdoor climbing venues, I have done a lot more outdoor sport climbing. Flatanger in Norway is somewhere that certainly stands out for me, it is not only the rock and the cave itself which happens to be phenomenal, but the area is also stunning.
What advice would you give to people just starting out in climbing?
I feel that at the start, the best way to improve your climbing is time on the wall. Try and climb on all different styles and angles and I think this is the best way to learn about climbing movement and technique, as well as learning about your own capabilities and limitations. If you can't figure out how to make a move, you can learn a lot by asking or watching others who are more experienced climbers – climbers are generally a very friendly bunch of people who are happy to lend a hand. Training your weaknesses can make a big difference to improving your climbing. If you find something about a climbing move or style particularly challenging, do it more, eventually it will become easier! However throughout, keeping the enjoyment and fun at the forefront for me has always been key.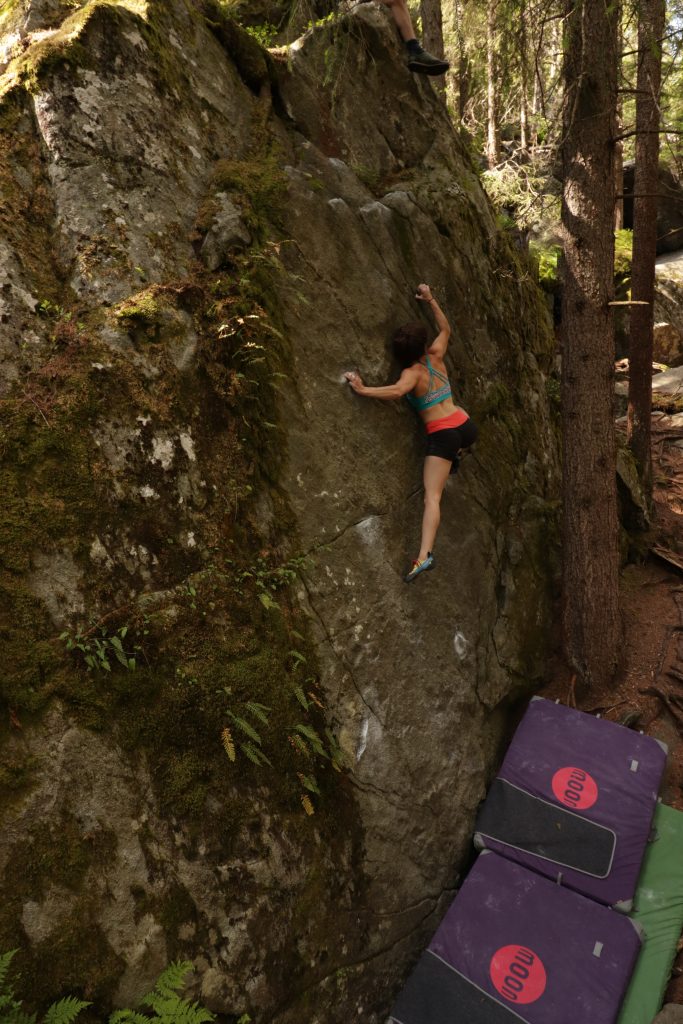 If you weren't climbing, what would you be doing?
I would like to think something to do with biology, ecology or conservation in line with my degree in zoology! And maybe travel and hopefully become a bit better at surfing!
What are your aspirations, climbing wise, for the rest of the year?
At the minute I am very torn between bouldering and putting some time into a project sport climbing somewhere. If I do end up going sport climbing, I would love to work a slightly more long-term goal of 8c!
What are you looking forward to the most about working with SCARPA?
I am looking forward to progressing in my climbing with the support of Scarpa, whose shoe I have almost exclusively climbed in over the last few years (the Scarpa Booster S has been my go to shoe ever since I first tried them on a few years back!) and I'm really excited to see and test new Scarpa shoes as they come out.
Thanks for your time Frances, we look forward to working with you here at SCARPA.
You can check out Frances's profile here