Scarpa athlete Will Sim, along with Italian Climber Korra Pesce were only the fourth team to tackle La Voie des Papas above Chamonix.
The climb gained quite a lot of attention, with many people intrigued by the climb of the most famous "fallen down" bit of mountain in the Alps.
---
The wall was once home to the Bonatti Pillar, a route first climbed by Walter Bonatti in 1955. In 2003 the pillar collapsed, 5 years before Will even started climbing in the Alps!
Will set his sights on the scar, which had only been ascended three times before. The route was opened by Martial Dumas and Jean-Yves Fredricksen in January 2007 and only climbed twice since.
Making the most of the great conditions, Will and Korra made the climb over four days in February 2021.
Will said:
"We spent 4 days and three nights on the wall, with 5 bivis round trip from Chamonix.

The route was characterised by freezing mornings, sunny afternoons, some scary rock which required mind numbing care to navigate and haul our bag over without damaging our precious ropes, but thankfully some good bivies!"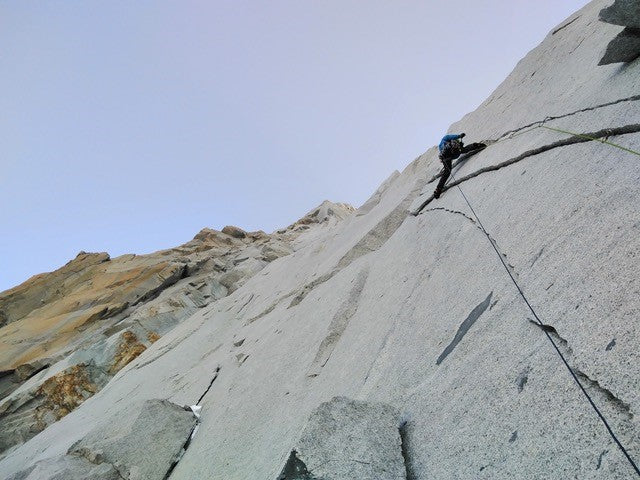 ---
Will recently spoke to Jake Holland's podcast about the ascent, you can listen here. Will takes Jake through the climb in a really informative chat.
About Will
Will grew up in St. Bees in Cumbria, but now resides in Chamonix, France, where he works as a mountain guide. Will started climbing aged 11 and immediately became obsessed.
He has some great fist ascents to his name as well as the fastest ever ascent of the South face of Denali – the Cassin Ridge in under 15 hours.
On the mountain Will wears Scarpa Phantom 6000 boots, which he calls "the lightest warm boot in the world!".