Scarpa Athlete Richard Bentley is one of Scotland's best known Winter Mountaineering and Climbing Instructors. Richard also provides winter training from his home mountain – Ben Nevis.
---
As part of his winter training courses, Richard "trains the trainers", running workshops for guides, instructors and other mountain workers. Out of these winter training workshops, Richard has been thinking about the importance of the mountain and how to get the most out of time spent in the mountains in winter. Here are his thoughts:
Perspective
Why do people climb in Winter? Perhaps one reason is that it gives us perspective. Perspective on life, and our approach to it. This perspective can help us to look at ourselves closely, our courage, commitment, and maybe even our approach to life.
As guides and instructors we can help people achieve this perspective, and I certainly regard this as a privilege and highlight of my job.
So, just as its a privilege to guide and instruct folk in Scotlands Winter mountains. I am also lucky enough to run workshops for guides and instructors on how to get the most from Ben Nevis in Winter with clients.
Ben Nevis is my home mountain, and I have been living in its shadow and working here for twenty five years. Every Winter I run some workshops for the Association of Mountaineering Instructors, staying at the iconic CIC hut on Ben Nevis. During these I try and share my knowledge of the mountain and how to get the best out of it in Winter.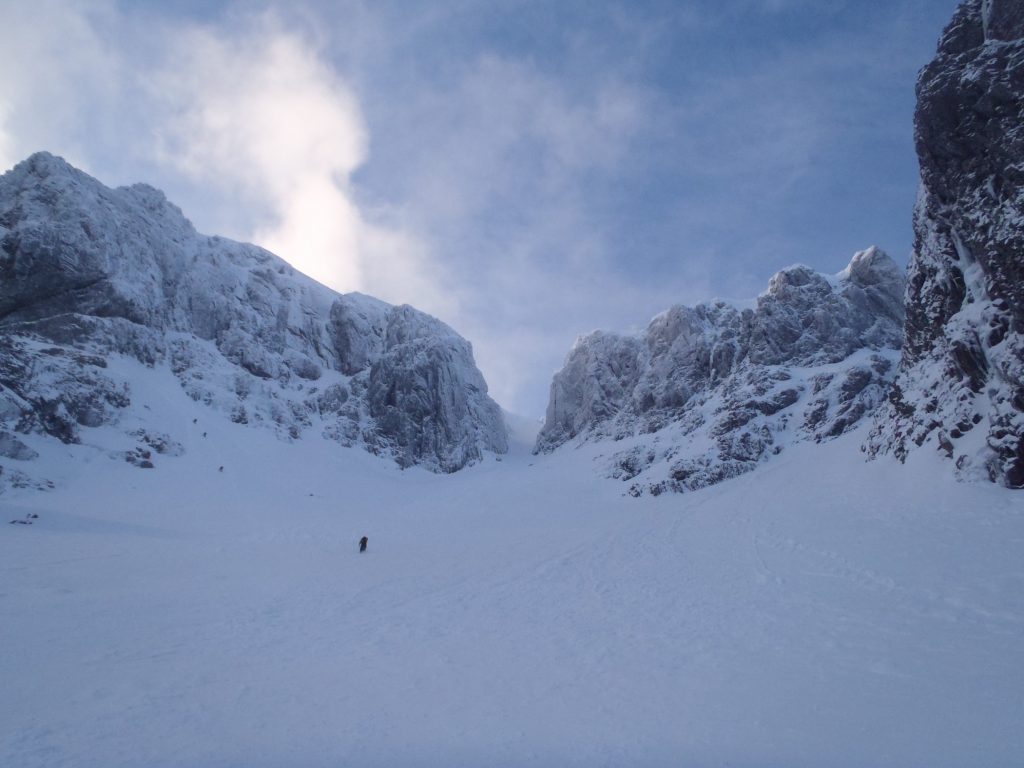 During these workshops we explore the complex and huge Crags of Ben Nevis, and discuss how best to use this amazing and serious playground from a professional viewpoint. It's our job to minimise risk through a considered approach whilst still giving clients an amazing day out. Here are some thoughts on a few of the topics we consider.
Avalanche Awareness
Ben Nevis is a complicated mountain and its Winter crags have a lot of different aspects. This makes predicting where the avalanche problem is quite tricky. Coupled with several large, gullies with differing aspects, and steep crag aprons it can be a dangerous place to climb if the avalanche forecast is Moderate or higher.
Getting to the route is usually the issue. We must consider the aspect of the approach, its steepness and what dangers are above the approach in terms of unstable slopes and cornices.
Sometimes we can even use one route to access another.
Route Choice
A philosophy I always use now is not to be fixated on a certain route. Rather, think about climbing a certain "type" of route instead. For instance, you want to climb point 5 gully, a classic, long, grade V ice route. But, it's a popular route, it's not a route to be underneath other climbers on, it suffers from bad spindrift and its approaches can be avalanche prone.
So instead, head in with an open mind, and a willingness to climb another similar route, if circumstances dictate. There are plenty of similar climbs. Hadrian's wall, Observatory buttress direct, Rubicon wall, minus 2 gully, Pinnacle buttress direct, to name a few.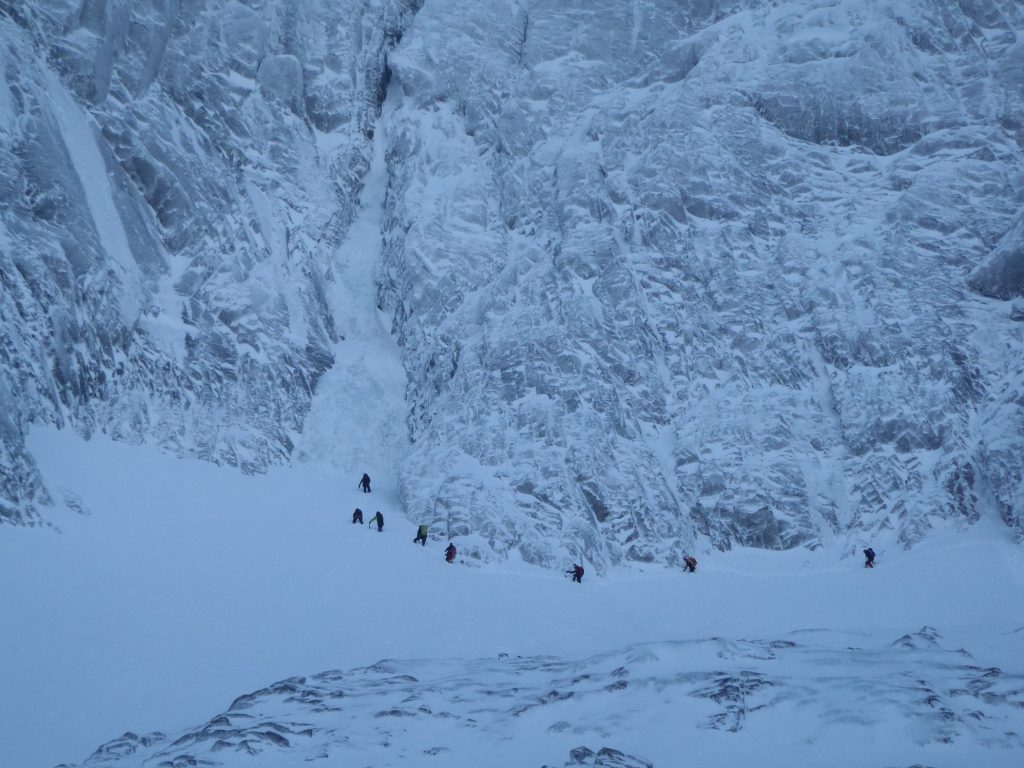 Routes when conditions are lean, or the mountains buried in snow.
Early in the season, or during a thaw, you need to get high to find the conditions. Technology helps here, there are several good weather stations, particularly on nearby Aonach mor, that give you temperatures at 900 metres and 1185 metres. These easily translate to locations on Ben Nevis.
When the hill is buried in snow, some routes will be long, time consuming and come with a significant avalanche hazard. Think steeper snowed up rock routes, that have a safe approach. In these conditions the Douglas Boulder area comes into its own, with several great long mixed climbs in a variety of grades.
Descent options
There are several options and discussing them in detail here, is beyond the scope of this article, but I'll mention a couple that sometimes go under the radar, if you are trying to get back to the CIC hut.
Ledge route:
A long easy grade II ridge, that can be done as a grade I ridge in descent by missing the lower section and traversing into Coire na Ciste. However, consideration of any avalanche hazard in No5 gully should be considered as this route involves a few seconds quickly crossing the narrows of No5 gully to gain the top of Moonlight gully buttress.
Carn Mor Dearg descent into Coire Leis:
A favourite from the summit when there is good snow cover, or sometimes, if there is an avalanche risk on Easterly aspects. Because Coire Leis has a wide range of slope aspects from West through to North, its can be possible to get down its Westerly aspects, when easterly aspects have a significant risk.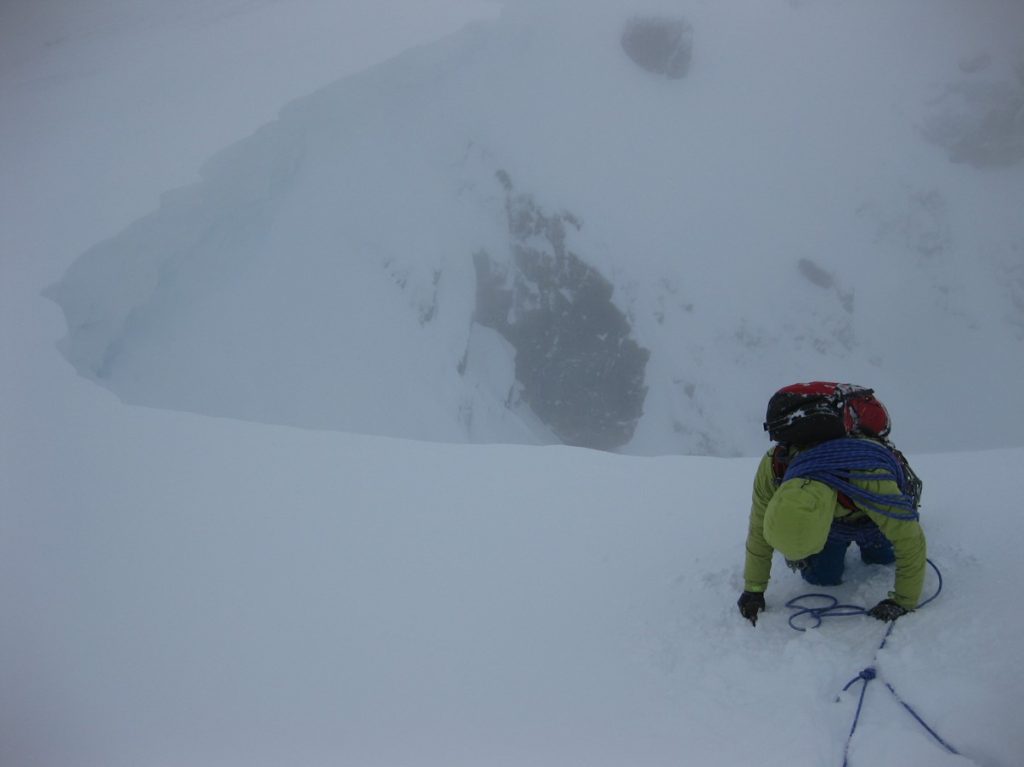 Perspective
So back to the perspective that Winter climbing can give us. We should always remember that we choose to go Winter climbing. We choose to be cold, scared, and put ourselves at risk. And perhaps it is through this choice that we are lucky enough to occasionally, truly appreciate life. And some of us are lucky enough to help people achieve this "perspective".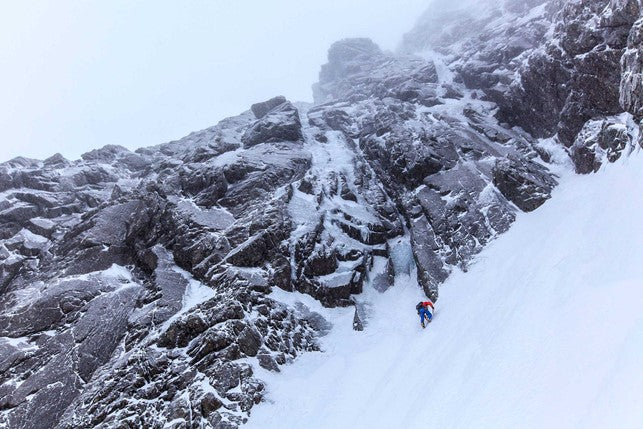 Want to keep up with the latest from our athletes? Follow us on Facebook or Instagram!