Scarpa Athlete Jacob Cook is a big wall climber who has climbed routes all over the world. Earlier this year Jacob headed out to the Mexican desert to develop a new route "Los Naguales" in La Popa.
In this blog Jacob takes us through the highs and lows of climbing in Mexico.
La Popa is a unique place. Whether or not you believe the local stories about evil spirits and shape-shifting horse-people, it's undeniable that the place has a powerful feel to it. Way out in the desert, you're a long way away from the hustle of the near-by Potrero Chico. There's nobody home except the wild horses and endless, endless cactus.
The last time I had visited the area was with Tony McLane and Savannah Cummins in 2019. We climbed a new route, ground up, using mostly traditional protection. We placed around 12 bolts in ten pitches, all drilled on lead from sometimes very precarious stances! We named our route Super Blood Wolf, and despite having an amazing adventure, afterwards I decided I never wanted to go ground-up adventure climbing on La Popa again. Ever. I did however, miss the time spent out in the desert, with no distractions and the most spectacular night sky I have ever seen.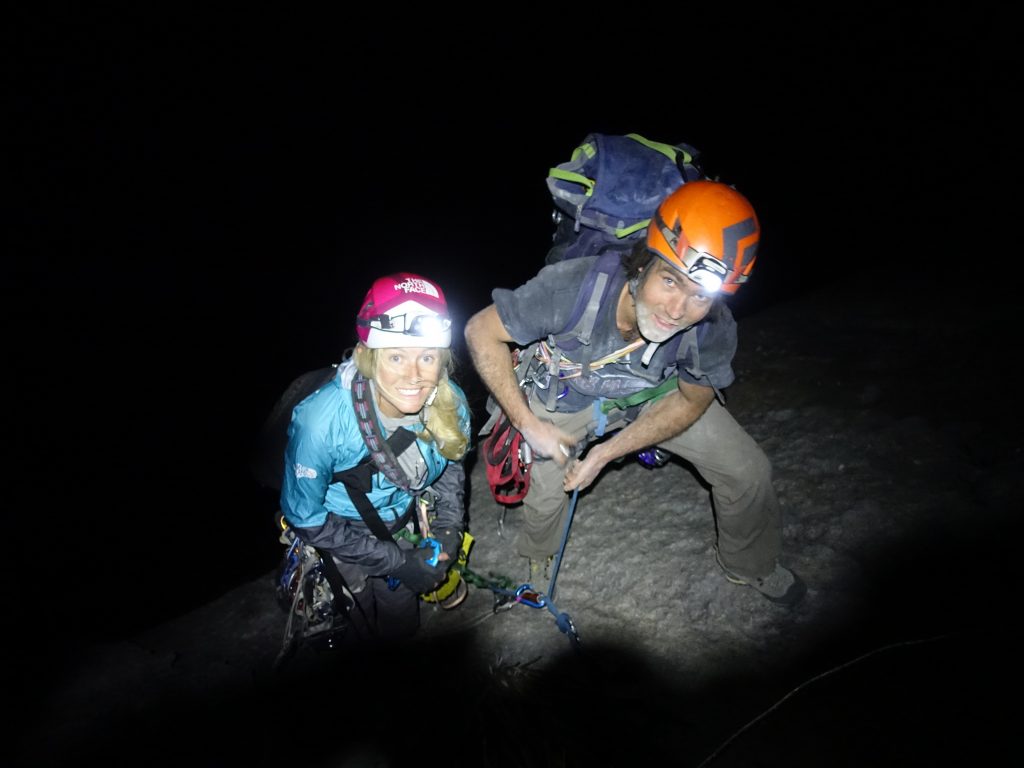 This time when Drew Marshall and I returned, the plan was to camp on the summit and go fully top-down. We wanted to create an actually good route, through the insanely overhanging part of the cliff. A fully bolted sport route, worthy of repeating and getting this wild place the attention it deserves.
Almost every day in winter, in the morning, a cloud inversion forms below La Popa. We'd be sipping coffee at summit camp, on a tiny island surrounded by a sea of clouds.
We spent several days fruitlessly prospecting, we'd fix our rope to the top and rap over the edge. The cliff is so steep we'd just hang next to each other, way out in space, slowly spinning. Gradually we got to know the cliff, we learned what different colours of rock corresponded to in terms of rock quality up close. We found lots of amazing features but nothing quite connected. We began to doubt if the mega-line through the steep section actually existed.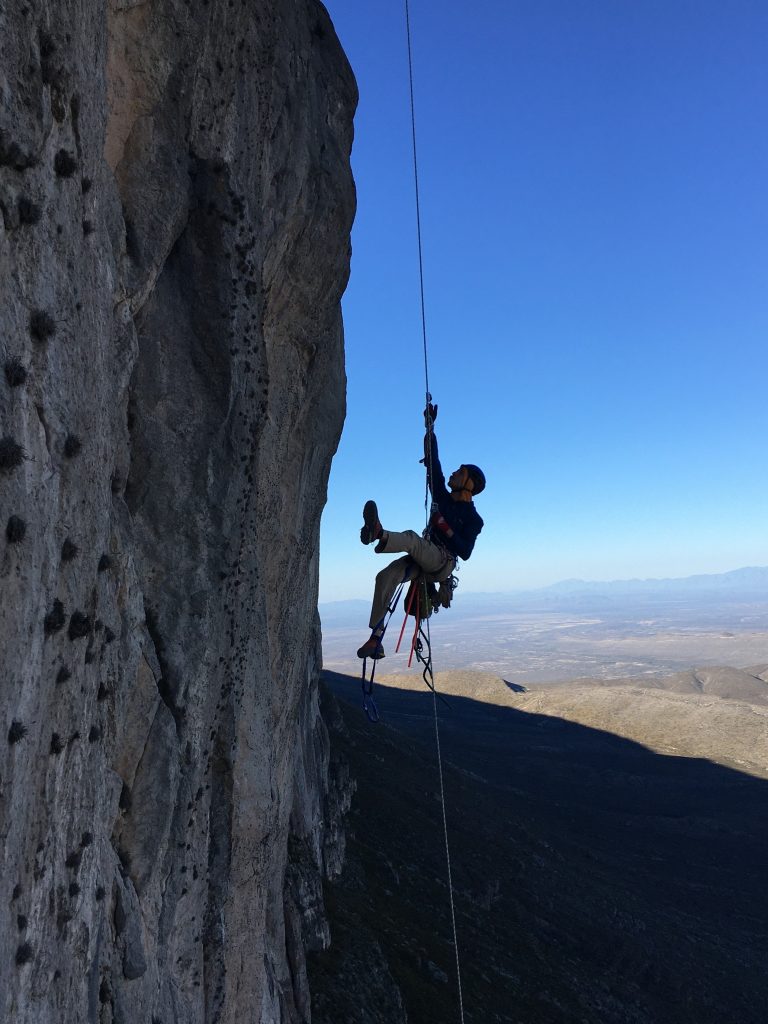 Then, one night I was bivvied at the base of the wall. At sunrise I lay in my sleeping bag and looked straight above me. I traced a line, going all the way through the lower wall on tufas and cracks. The one big question mark was an overhanging blank section of grey rock right at the top of the cliff. It seemed unlikely but worth at least having a look. The next morning we rapped in and were overjoyed to find a line of perfect pockets and jugs, right where they needed to be!
Over the next month we worked like maniacs. One of the things I love about climbing with Drew is how efficient we are as a team. Everything about developing the route was a logistical challenge, but each time we'd apply our skills in a new situation and find an efficient solution. The first challenge was just to get our ropes fixed down the line. After some wild swinging, we managed to get bolts or cams in, to keep our fixed rope into the overhanging wall all the way down.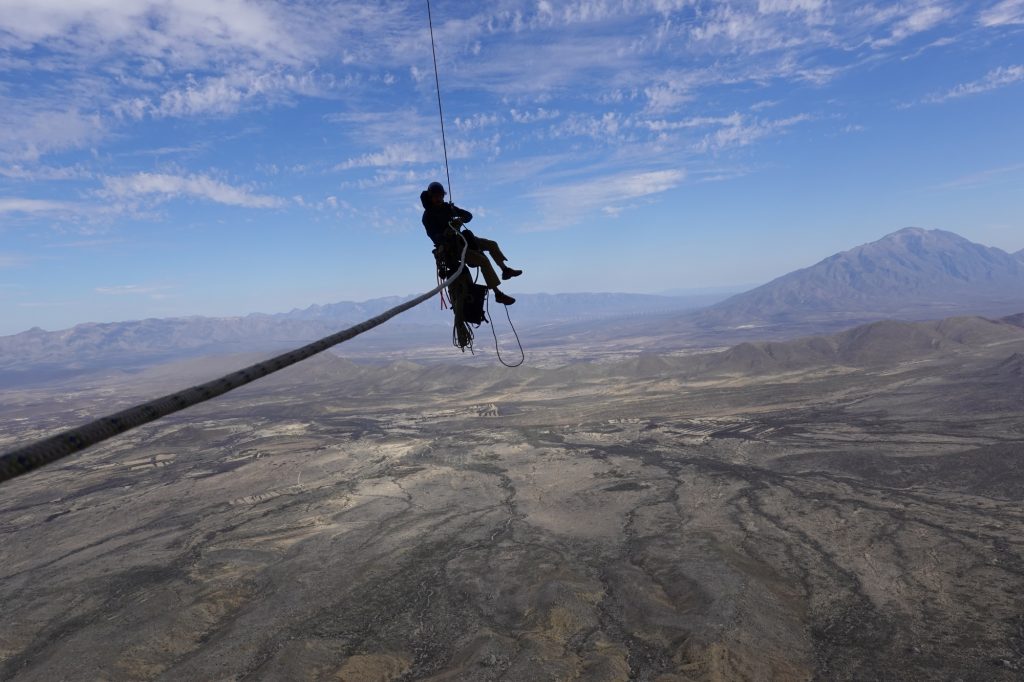 A tense couple of days followed, where we checked the remaining big question mark sections to make sure they were actually climbable. We were overjoyed again to find that it all went. The crux pitch involved wildly overhanging full body chimneying against a massive tufa!
Many days, around 150 bolts and endless loose rock trundles later, we found ourselves standing on the ground, at sunset, with a fully bolted and cleaned route above us. The only problem was that I had a flight to Patagonia the next morning!
That night we stripped all our ropes and gear from the wall. As I ascended the rope up behind Drew I took out the re-belays and swung wildly out into the night. I was mildly concerned about colliding with a rabbid bat and somewhat more than mildly concerned that the end of my rope would come tight below me. It was attached to our haul bag that I'd just left chilling, perched on a ledge many pitches below me!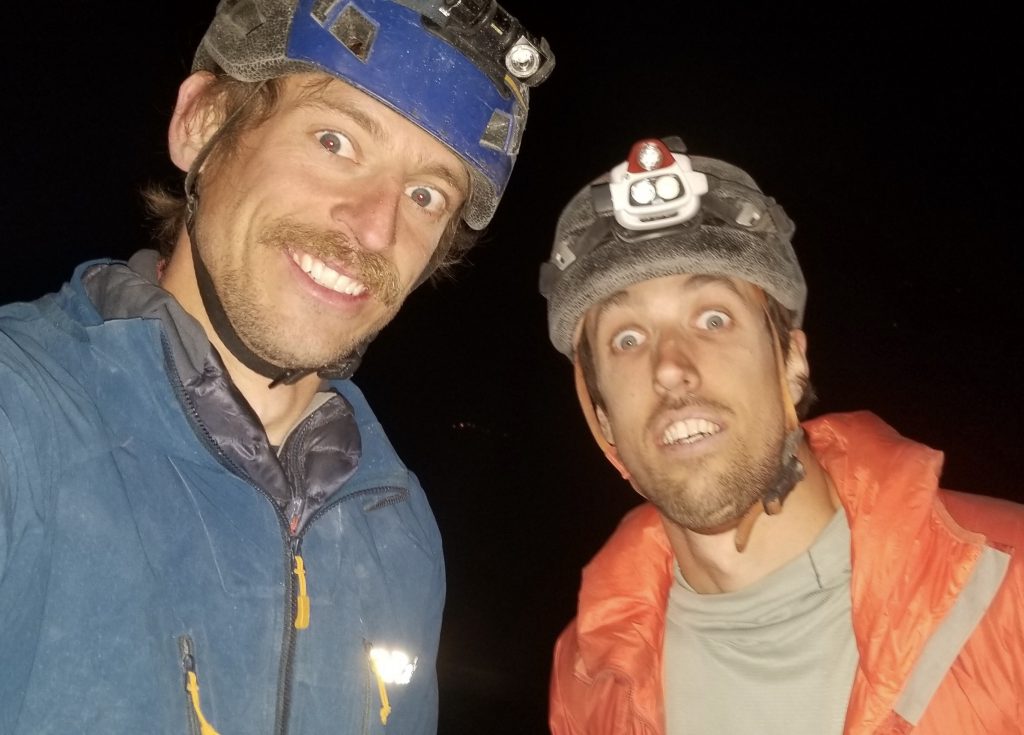 Somehow I was able to quiet my mind, no self-talk, just climb. Jam, bar, wedge, lock… anything but engaging my failing forearms. As I got high on the last 13a pitch, the doom-pump set in for real – it became an all-out race to the belay. Forearms uncurling, I skipped the last bolt, slapping to the anchor with 300m of air sucking at my heels.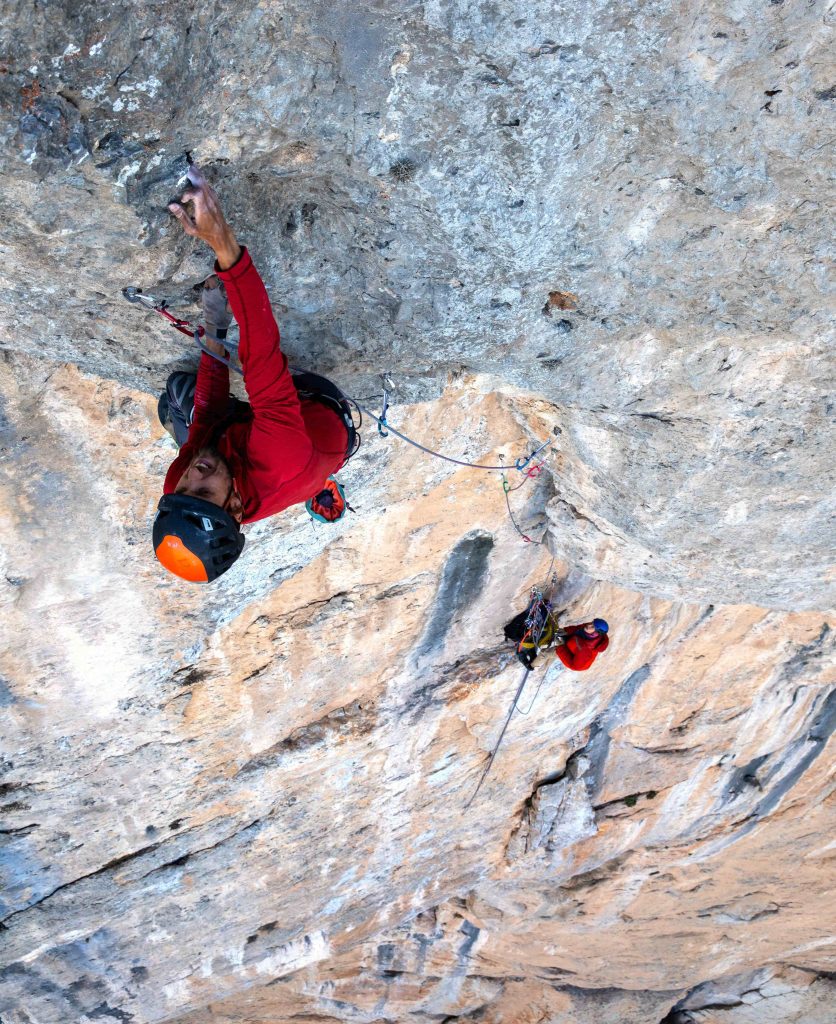 We named our route Los Naguales, the local name for the shape-shifting horse people rumoured to frequent the surrounding desert. The whole process from discovering the line, to bolting and cleaning it, to finally sending has to be one of the most satisfying in my life as a climber.