Winter Mountaineering can be really rewarding, but challenging. In this blog Scarpa Athlete Di Gilbert takes us through how to stay safe while winter mountaineering.
---
There comes a time in your mountain career when you want to progress to the next level. As a competent summer walker you will make your first tentative steps into autumnal walking and start to get a taste of the winter season.
Personally, I don't think individuals who head out to the highest hills in the depths of winter should be classified as walkers. There is a massive leap in judgement, knowledge and experience to be gained. Any person who ventures out into the hills in winter by default is a mountaineer.
The winter game can sometimes seem overwhelming, but by taking baby steps and learning along the way, it will start to feel less intimidating and extremely inviting. For me, the hardest decision about operating in winter is deciding what to do and where to go.
There is nothing more demoralising than spending a whole day in a white room when others have been soaking up blue skies and applying sun cream all day. When planning a winter day I think very carefully about underfoot conditions, overhead conditions and who I am going to be on the hill with.
Di's 5 top tips for Winter Mountaineering
Once again, here's 5 top tips about what goes on in my little head when I have a winter day in the mountains coming up.
Weather
I become obsessed with the weather during the winter months. I look at very specific online sites for gathering information on weather, both short and long term.
Remember that a weather forecast is a forecast and things don't quite often turn out as planned. Ask yourself if the weather forecast is an improving or a deteriorating trend and what the consequences could be if things move faster or slower than anticipated.
Be aware of wind speeds and freezing levels since these to me can be mountain show stoppers. Keep those big mountain days for when stable high pressures dominate the country and go shopping (the enforced rest days) when a storm system is established.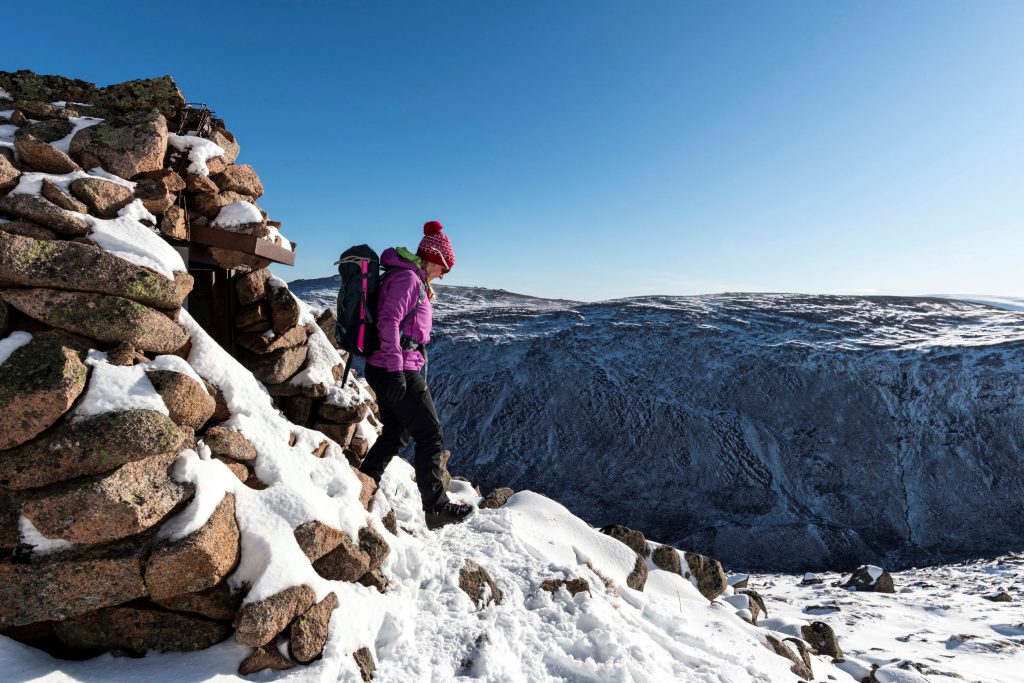 Friends
I am very happy with my own company but I love sharing days and memories with friends. I think a very small group of people work well providing safety, another opinion and companionship in the winter environment. I will be very aware of my friends abilities and will either prepare myself for a beasting on the hill or to reign in my aspirations.
The bond between mountain friends take many outings to master but once achieved will be there forever. We've probably touched base a few days before the planned day in the diary discussing options on what to do and where to go. Two heads are definitely better in this case and I love getting a side ball suggestion.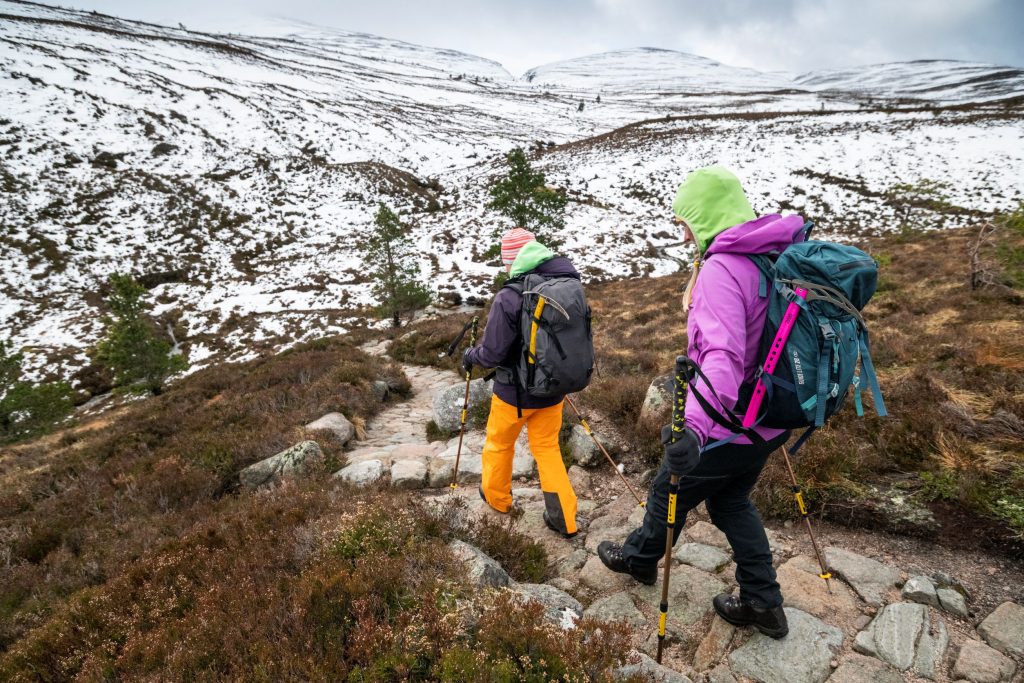 Bags
I always pack for the worst and will have numerous bags with me in winter. I try to pack my rucksack the night before just waiting for my food and hot drink to go into it in the morning. Nothing worse than fumbling around with a head torch trying to pack at the back of the car – something always gets missed.
I will pack a bag with clothes that I will be wearing as soon as I get out of the car – boots, gloves, poles, and waterproof jacket. I'll have another bag for the end of the day with a complete set of dry clothes – I don't mind driving for a short distance in sweaty wet winter clothing but if it's a longer drive I want to give myself the best chance to fully recover. I'll have a hot drink and more food in this bag since I won't have drank enough or consumed enough calories during the day and I want to start filling up the tank as soon as I can.
Sharps
In winter, slips, trips and stumbles can have very bad consequences and training people to walk properly in the winter environment is always my biggest focal point. A 4 season mountain boot (such as the Manta Tech) becomes a tool that, if used correctly, becomes very efficient.
Combine a good boot with a good pair of compatible crampons and you have a great combination. A general mountaineering axe is essential and you will probably need some help in learning to use this. This should be easy to handle, accessible and shouldn't get confused with becoming a walking stick – I'm referring to the earlier Alpinists here with their super long alpenstock's. Looks great above the mantlepiece but useless on the mountain.
Most ice axe's come with a leash but remember that these should either be removed or held in your hand or on the wrist. Otherwise you have just created the perfect trip hazard if wearing crampons – i.e. don't let it dangle down!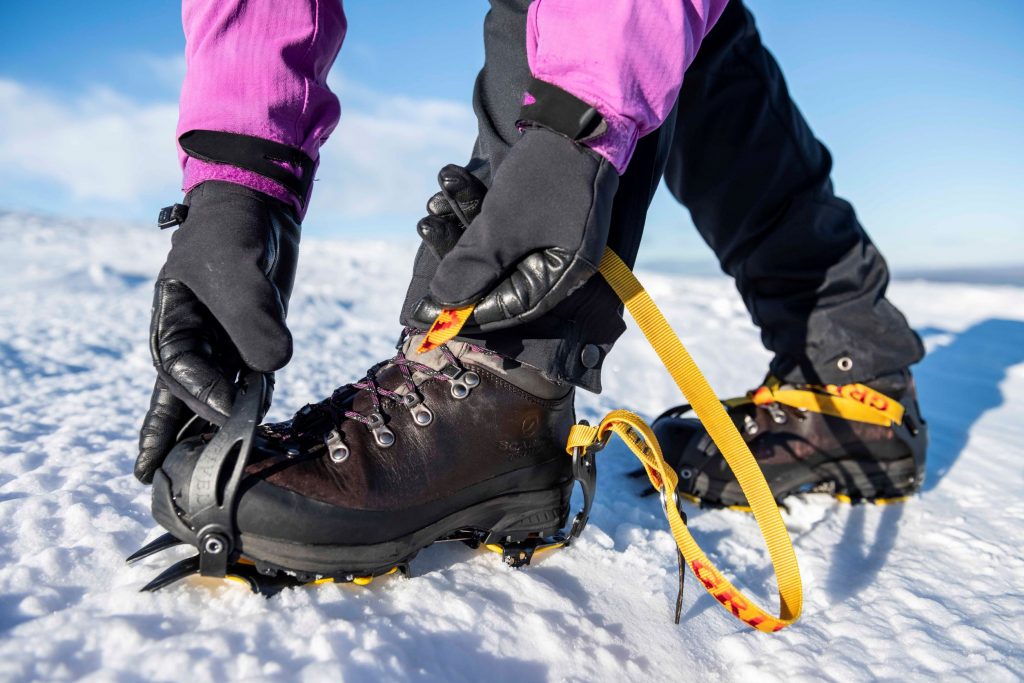 Avalanches
The British Isles have a very complex, rapidly evolving snow pack that should never be underestimated. The snow pack is inherently linked to our weather patterns and since we can get 4 seasons in one day just have a think what this is doing to a snow pack. Now can you see why I am obsessed with weather in a winter setting?
The snowpack is constantly changing in a good or a bad way. The experience comes knowing which way it's going. I become twitchy on days when I have reduced visibility since I can't see what's happening above me and if I can't see I have to guess and/or assume. I become super twitchy on poor visibility stormy days, which in Scotland is very often.
I have climbed and worked around the globe for 30 years, and it's the winter season that still sends tingles down my spine. Working in the Antarctic and over 8000m is all perfect training for the Scottish winter season.
---
About Di
Di is a fully qualified Winter Mountaineering and Climbing Instructor based in the Cairngorm National Park.
For nearly 30 years she has been providing training and instruction to budding winter hill walkers, winter mountaineers, winter climbers, alpinists and individuals training for 8000m peaks. For more information, please see www.digilbert.co.uk.