Fresh from conquering the Swiss Triple Crown, professional climber and outdoor writer Calum Muskett takes us through his assents of the Matterhorn, the Eiger and Dent Blanche.
The Swiss Triple Crown
The Swiss Triple Crown are the three classic ridgelines leading to the summits of the Matterhorn, the Eiger and the less well known but just as incredible Dent Blanche. Each of these mountaineering trips requires a long and demanding summit day from their respective huts, all at altitudes of over or around 4,000m. The climbing on each route is given the alpine grade of AD, requiring medium level technical climbing on rock and mixed terrain. The classic routes are as follows:
Hornli ridge on the Matterhorn (4478m) AD III
South Ridge of Dent Blanche (4357m) AD III
Mittellegi Ridge on the Eiger (3970m) AD
When to climb them?
The prime season for climbing these routes is from the beginning of July to mid-September. They are all most easily ascended when the lower half to three quarters of the route are relatively snow free, allowing them to be climbed without the use of crampons until you reach the easier summit ridges.
In the case of the Eiger in particular and also the Matterhorn, difficulties are much increased if there has been a fresh fall of snow, whilst Dent Blanche is more amenable after recent snow given the nature of its climbing. A fresh snowfall can make it extremely difficult to reach the hut on the Eiger's Mittellegi ridge due to the low angled yet technical nature of the climbing.
The driest (and busiest) season if often between the last week of July and the first week of September when any snow left from recent storms quickly melts in the summer sun.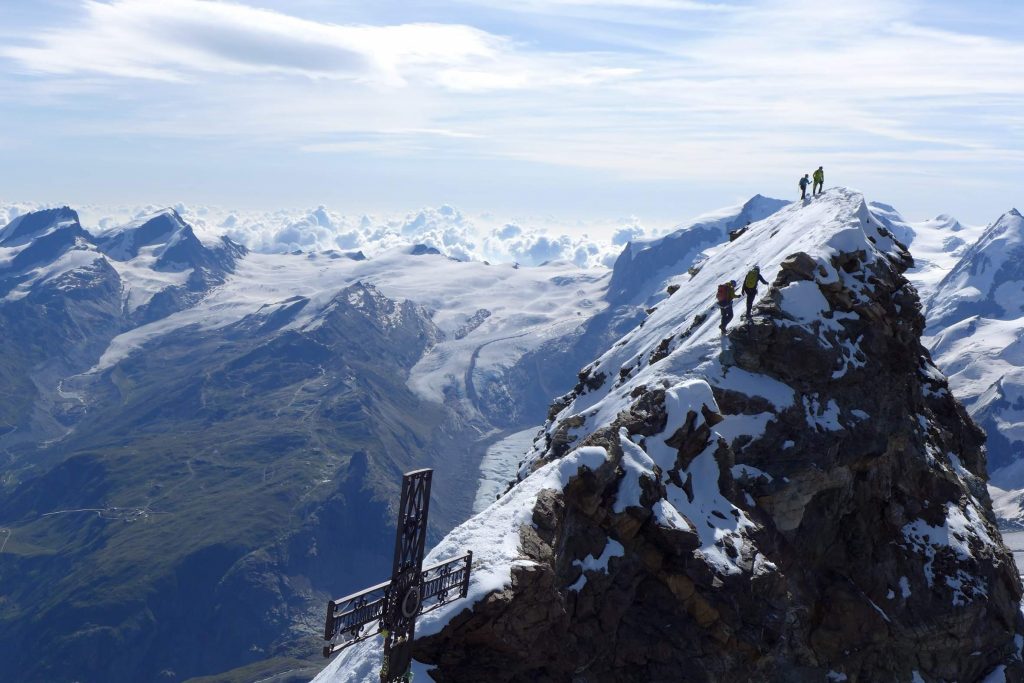 How do I get to them?
All three routes can be accessed easily by flying in to Geneva airport where cars can be hired conveniently. It is a two to three hour journey to arrive at Tasch/Zermatt for the Matterhorn, Ferpecle for Dent Blanche and Grindelwald for the Eiger (you can also fly into Zurich airport for Grindelwald). The public transport network in Switzerland is excellent and you can reach Grindelwald and Zermatt easily, whilst a public bus runs up the valley from the nearest train station to Ferpecle.
How difficult are they?
The climbing difficulty is sustained in nature on each route throughout the ascent and descent with constant scrambling, interspersed with more difficult short sections of pitched climbing. A maximum difficulty of 4c (UK grade Severe) which must be climbed in mountain boots or Scottish grade III in wintery conditions.
On the Matterhorn and Eiger any sections that would be more difficult have thick 'marine-type' ropes in place for you to 'hand over hand' up. Abseil bolts and stakes allow for an easier descent of these sections. The order of difficulty of routes goes from the easiest being the Matterhorn, followed by Dent Blanche with the Eiger having the most technical ascent which is also the only route that isn't a return journey.
Route finding can also be difficult and time consuming so make sure you do your homework in advance of each trip. Try to memorise the route description (with a description in your pocket) and have a good nose for sniffing out the most polished and well-travelled rock. The Mittelleggi ridge can also be climbed from Grindelwald via an interesting but much longer route, climbing via the Ostegghutte and is highly recommended if you have the time and energy.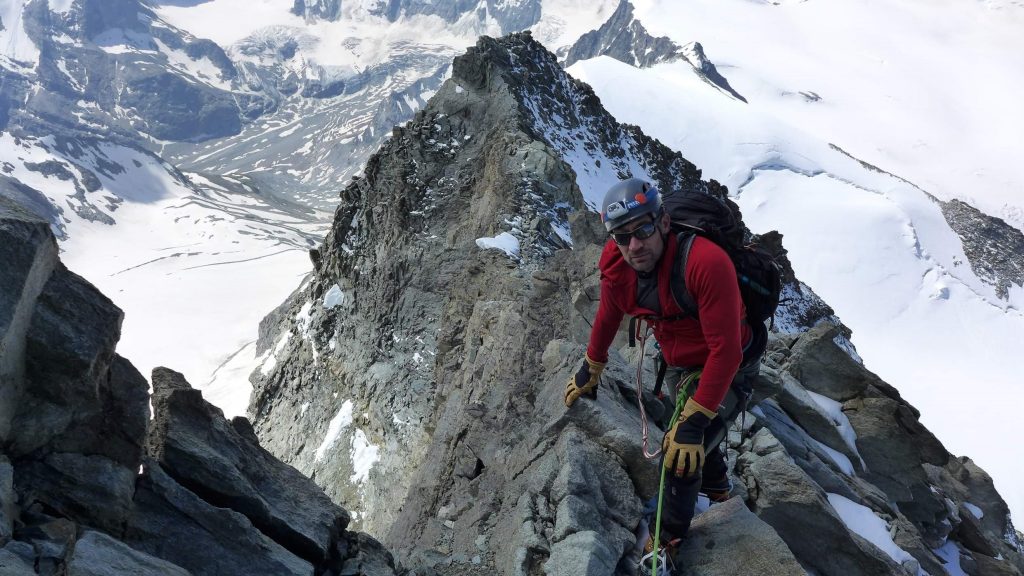 What level of experience do I need for them?
For an independent trip you should have prior experience climbing at altitude and moving together over easy terrain whilst managing a rope, be comfortable climbing up to Severe/4c in mountain boots and also have winter mountaineering experience up to a minimum of grade III Scottish. You should also have a high level of fitness for long days out on the mountain – most independent teams will average about 10 hours climbing time. These are not introductory alpine routes by any stretch so build up to them via easier alpine climbs.
For a guided ascent you should have the above experience in the capacity of a second. Whilst I state this level as a minimum, any experience over and above this will lead to a more enjoyable and straightforward ascent.
How do I prepare for them?
As per the above, time spent gaining mileage at the appropriate level of climbing difficulty will be well spent. I would also recommend good cardio conditioning in the shape of hill walking, running and cycling. Setting some longer 'challenge' days prior to such a trip is also a fun way to prepare, where you spend over 8-10 hours linking up easier rock climbs and mountain scrambles. Finally, I recommend spending at least three days acclimatising on easier routes before attempting each ridge.
What equipment do I need for them?
You will need a mountaineering harness, belay plate, a couple of slings, 5 quickdraws/runners, a few wires and three cams. As well as dual point crampons with anti balling plates and a single mountaineering axe. I prefer to take a small, lightweight mountaineering axe, as the majority of the climb you will be carrying your axe.
For footwear I like to use the Scarpa Ribelle Tech, or for colder days the Phanom Tech. A 35 litre rucksack, food, water, a first aid kit, helmet and some warm/waterproof clothing should suffice.
How do I book huts?
The Mittellegihutte can be reserved through the Swiss Alpine Club website, by phone to the hut in season or Grindelwald Sport out of season. They are happy to offer advice on conditions.
Cabane de la Dente Blanche, also a Swiss Alpine Club hut, can be booked via phone or email. The Hornlihutte can be booked through the website.
All huts can be fully booked if you try and reserve a place last minute in peak season, especially on Fridays and weekends. The Hornlihutte takes a non-refundable deposit whilst the other huts must be given 24-48 hours notice of cancellation for a refund. The Mitteleggihutte is often abandoned by the guardians if the weather turns bad for a week, however there is a cosy winter room available just below the main hut.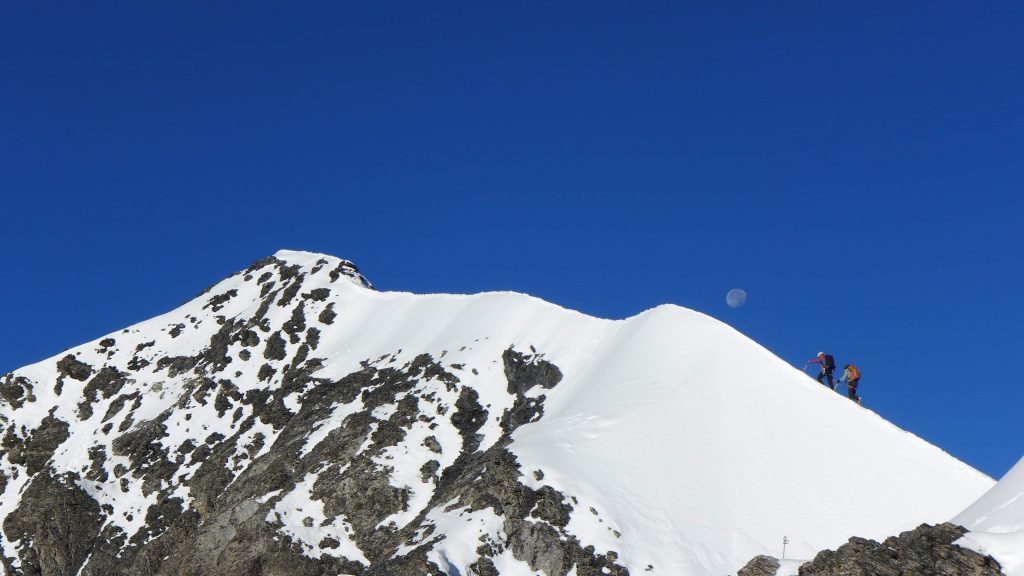 Do I need a guide and how do I find one?
Hiring a guide is very much a personal choice depending on your level of experience and cashflow. Using a guide will hugely increase your chance of making a successful ascent as you will be drawing on their knowledge and expertise to remove some of the obstacles required to climb such routes. At the same time if you have a good partnership with another alpinist then it's hugely satisfying to climb these routes independently.
Whilst mountain guides are expensive, you are also much more likely to make the most out of everyday you have out with them. I know a couple of examples of individuals failing on multiple occasions on the same route and finally hiring a guide and climbing it first time.
Guided ascents will set you back anything from €1,200 for a 2-day guided ascent to upwards of €2,000 for a 6-day trip including preparation, acclimatisation and a choice of summit days depending on whether and conditions. You will need to hire a qualified IFMGA guide and I would always recommend asking other people for recommendations as to a safe, friendly and professional mountain guide.
About Calum
Hailing from North Wales, Calum is an MIC and aspirant mountain guide dividing his time between the mountains of Snowdonia and the sunny French valley of Samoens in the heart of the Alps. Calum specialises in trad and alpine climbing having served an apprenticeship climbing on the mountain crags and sea cliffs of North Wales.